Our second challenge for August was to use Husk grid paper and Pattern #14, which uses sixteen 2 x 2 squares and 1" border all around. In addition, the element option I chose was to use clear stamps.
My son and grandson recently went zip lining for the first time when our family was on our annual trip--this time to Branson, Missouri. Of course, I went along and took the best shots I could capture--which wasn't very easy, considering the fact that I was on the ground, and they were way up there "zipping" past! I really wanted to do something special with those mediocre pictures, so I decided to use them in this project.
I first did the second page (except for the border), which uses Pattern #14. The picture which I wanted to be the focal point was the closeup of Paul and Brock right before they climbed up the tower, so I placed it in the bottom center of the first page and matted it in a rust color to match Brock's shorts. Then I placed the rest of the pics.
It was difficult finding a print for the fill-ins and the border, but I finally decided on a multicolored leaf print. Then I stamped the "Life . . " saying directly on the sky picture on page one. Each corner of the second page is stamped. They say (appropriately, I believe) "Spread your wings," "Embrace each moment," "Love your life," and "Create you own fun."
My examples didn't show up as clearly as usual; don't know what the problem was, but the originals are very clear. Sorry. I hope you can see them well enough to enjoy them.
As usual, my primary desire is that Paul and Brock are pleased and enjoy having this layout as part of their scrapbook memory collection (which has been mostly created by you-know-who!).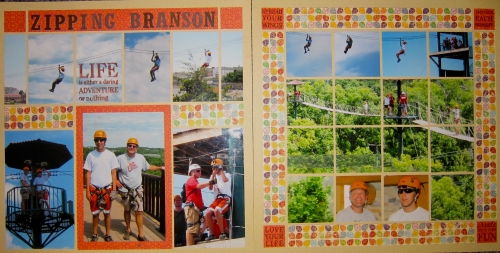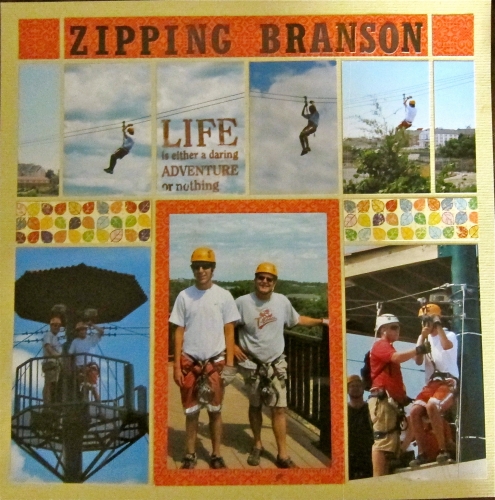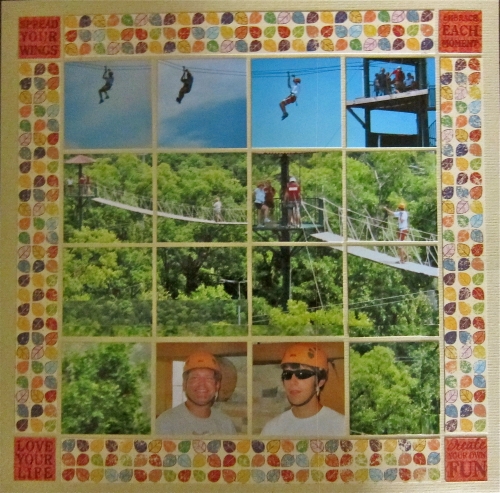 Shared by Linda Holmes on August 21, 2012 | Memory Date: August 21, 2012