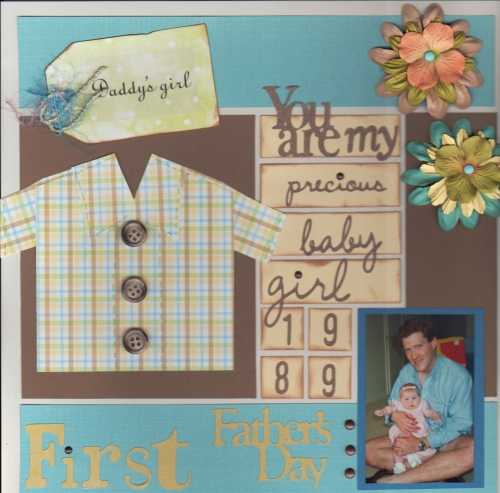 The 2nd challenge in June called for MM pattern #23, a choice of patterned paper, buttons, brads or a MM free download. I didn't have a set idea of what to do for this challenge but since Father's Day was just last week, I decided to go with that theme. The patterned paper was my inspiration in trying to make a man's shirt, and honestly I tried many different types of shirts before I finally got it right with this one. Then I added the buttons and I was happy with the result.
Instead of using a current Father's Day photo, I decided to use our FIRST Father's Day as the theme of this assignment.That picture was taken 19 years ago and WOW has time gone by fast! This baby is all grown up and in college now.

I used my Slice machine to die cut all the words, inked around the edges of the list ladder and even added brads. I didn't want to make this page overly frilly, but it needed a feminine touch. I added the flowers in coordinating colors of brown, beige, blue, green and orange and a tag with the title of the page..Daddy's Girl...and boy is she ever her Daddy's girl!!

Shared by Beth Glass on June 26, 2012 | Memory Date: June 25, 2012