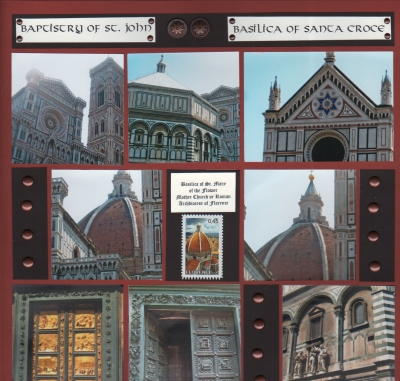 The architecture of these churches in Florence is absolutely beautiful. The top photo shows the Church of Santa Croce. The neo gothic facade was designed by a Jewish architect, Niccolo Matas, who placed a prominent blue Star of David in his design.
The middle photos show the Great Dome designed by Filippo Brunelleschi and the photo on the bottom left shows the gilded bronze doors, also called The Gates of Paradise, designed by Lorenzo Ghiberti. These doors depict sculped scenes from The Old Testament.
Although we only had one day of sight seeing in Florence, we saw an amazing amount of beautiful and interesting sights. I hope to return one day to explore the many other wonders of Florence.
Shared by Beth Glass on May 23, 2012 | Memory Date: July 1, 2011