Our 2nd challenge for April was to use Raspberry paper, Mosaic Moments pattern #10 and one element from the list provided. I chose an oversize title. My page is a Happy BIrthday tribute to my Mother who just turned 80.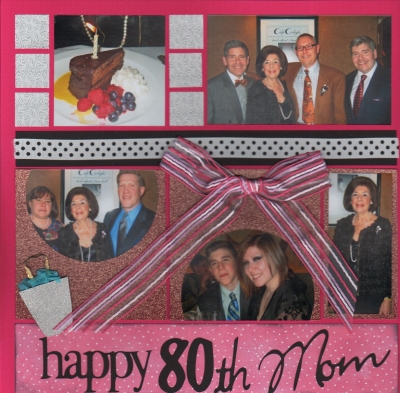 If you remember the tribute to my Grandmother (107 years old), you will probably say that I'm blessed with good genes. No one (least of all the birthday girl) can believe she is really 80 years old. Not only is she young looking (and beautiful!), she is young at heart.
My mother is all about girly things, so the Raspberry paper was a great place to start. I knew if I made a page about Mom, it would include glitz, glamour, ribbons, sparkle and polka dots! Black and white polka dot ribbon covers a 1x12 strip of black paper and, the big pink ribbon tied into a bow is a perfect embellisment for a page about my mother.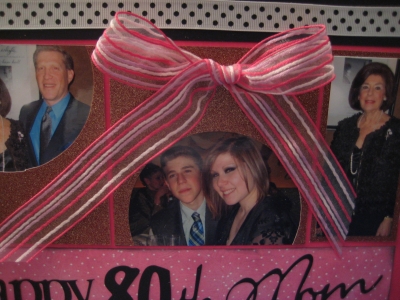 The photos under the black strip are framed with glittery paper which I cut out in half circles to add visual interest to the page. And the photo of my Mom on the far right is matted with the same glittery paper.
The bottom is the oversize title which says happy 80th Mom. I cut the title from my Slice Machine. The pink paper has soft white polka dots and is inked with black around the edges.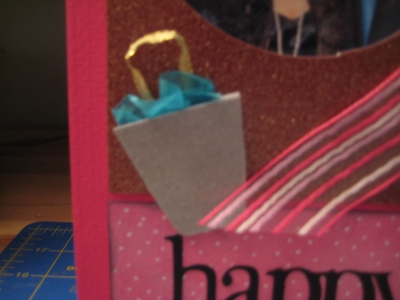 I made the gift bag out of silver glittery paper, turquoise tissue paper and a piece of gold ribbon. It was a very quick and easy hand made embellisment to add a personal touch to the page.
My Mom is a true New Yorker and since this was such a special occasion, she planned a extravagant night out to celebrate her birthday. As you can see from the top photo of my Mom and brothers, or the photo of my husband, Mom and myself, we celebrated the event at the Cafe Carlyle in the swanky Carlyle Hotel. A delicious dinner was followed by a fabulous musical treat. Herb Alpert and the Tijuana Brass entertained a packed room full of devoted listeners. Even, my kids who were made to suffer through "old" music and actually enjoyed themselves. Happy Birthday Mom!
P.S. The chocolate cake was delicous!
Shared by Beth Glass on April 23, 2012 | Memory Date: March 3, 2012