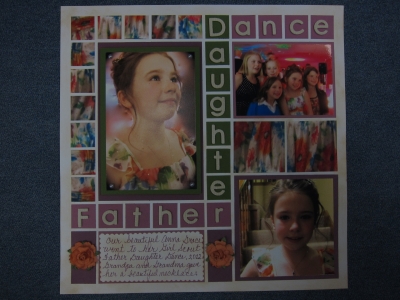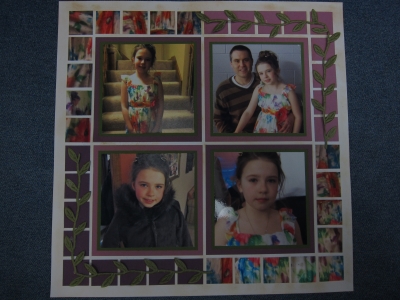 I chose to use the Plum Perfect Page Kit for March's second project. The challenge was to use the kit in a different way--change it up. I decided to use the pictures from our granddaughter, Anna Grace's, annual Girl Scout Father/Daughter Dance.
I really wanted to focus on Anna and her beautiful new dress which had several plum shades in the pattern. The base color of the dress was slightly off-white, and the grid paper was white, so I sponged it lightly with vintage ink. I then enlarged and printed several duplicates of the dress so I could cut them into 1" squares to use as borders on both pages. The other border squares are the two shades of plum from the kit.
I matted the main picture of Anna with olive green, popped it up, and put a plum pearl at each corner. After placing the off-white linen letters, I added the scalloped journaling box, some silk flowers, and some olive green silk vines.
It was difficult to get the lighting right to display this layout, and I hope I haven't made it too busy, but most of all, I really hope my wonderful 9-year-old granddaughter will treasure it as depicting a fun memory in her life. By the way, grandpa also escorted her and will be in another layout in her scrapbook.
Shared by Linda Holmes on March 21, 2012 | Memory Date: February 25, 2012