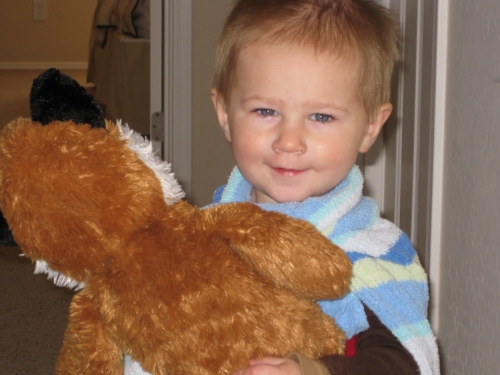 Here is Nixon as our resident "super-boy" shortly after he got up.
I can't believe Nixon is 18 months old. Wow, that went by quickly. He is our happy little boy, always smiling and laughing. Here are his 18 months stats:
Height 33 inches 75%
Weight 28 lbs 80%
Head 19 inches 75%
The pediatrician was really impressed with his growth and said if he keeps this up he will be between 6'2" and 6'4". I was so overjoyed to hear that. Heaven knows he doesn't get his height from the Palmers. They aren't exactly the tallest people on the block.
Here are some fun things that Nixon is doing:
Says the sounds a dog makes. Rah Rah.


Loves trains, Sesame Street, Dogs and being outside.


Goes to bed at 7 and wakes at 7:30 ish with a 2-3 hour nap. He is my good sleeper.


Says the following words: Mom, Dad, Hi, Bye, and uh oh, eye, No (but it actually sounds like Mo).


Is very social and loves to interact with other children.


Sneaks into his room to get his binky out of his crib for a little fix.


Is our resident super-boy with his blanket acting as a cape.


Opens every drawer, cabinet and closet and proceeds to empty it of all its components.


Loves being outside and cries when we bring him back in the house.


Folds his arms for prayers.


Follows directions really well


Gives the best open mouth kisses and also pats on the back when you hold him
He loves his blankee and Mr. Fox (as seen in the above picture).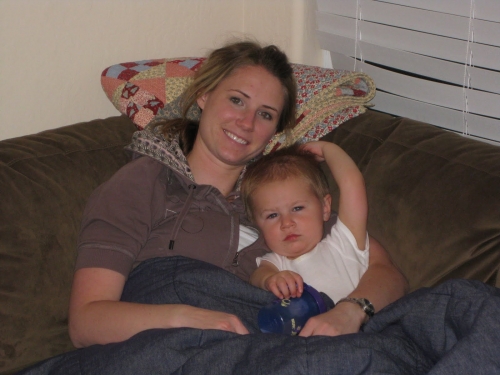 Nixon cuddling with the Mama while watching some Sesame Street
Shared by Brett Palmer on August 1, 2011 | Memory Date: February 6, 2011