Black & White Photography Challenge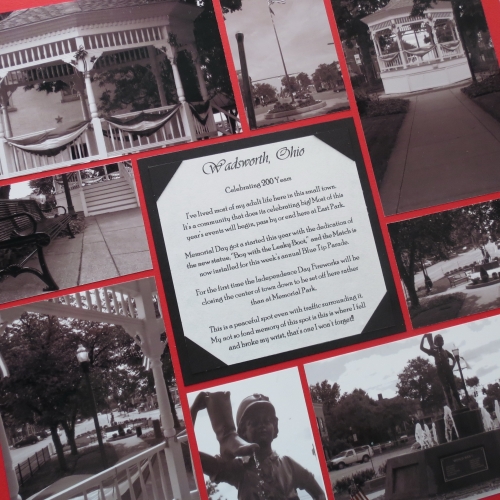 Once Upon a Time in my childhood, when most people were taking photos, they were mostly in black and white. It was expensive to shoot in color. My Dad shot our photos almost exclusively in slides, so our memories were for the most part, IN COLOR. My camera was loaded with B&W and normally we'd go through a roll of 24 photos in a year. No, really. As a kid, that was about the best we could do. You took only IMPORTANT photos of important events. Not at all like today. What a blessing digital has been! Just learn to delete!!
So, it's safe to say anyone can, because everyone used to take photos in B&W. However, not all B&W's are equal. The real artists like Ansel Adams (the one most people think about when they think, B&W photography) have a talent and an eye…taking a great B&W photo isn't easy. However, trying to see things in B&W, practicing, and getting in on the spirit of the challenge can be exceedingly fun. I so appreciate all the great work out there after this exercise and education!!
The town I live in is celebrating its 200th Anniversary this year. I intended to hit all the old buildings down town as I thought the architectural details would be great in B&W. First I practiced on an old tractor using a B&W setting on my camera. What fun! I may still do something with them, but for this challenge I found a grouping of photos I liked of the small park in the middle of town and chose to focus on the park alone. I returned this morning to gather a few more views and this is my B&W challenge offering for you today.
For my base color I went with a 12 x 12 Grid paper in Scarlet. Normally I lean to our cool red, Brick, but I did like this warm red, Scarlet, with the photos. I choose red as it is the towns color. I used Tami's Pattern #12. This pinwheel variation gave me 4 large photos and 4 smaller ones with a large center that I chose to use for my journaling.
This challenge was to include any of these three elements, Chipboard, photo tinting and photo corners. My photo corners are simple black ones only on the corner of the journal block. I thought it would help to focus attention to the center by using black photo corners to blend into the black block on which the white journaling block is mounted with the look of an old timey photo album.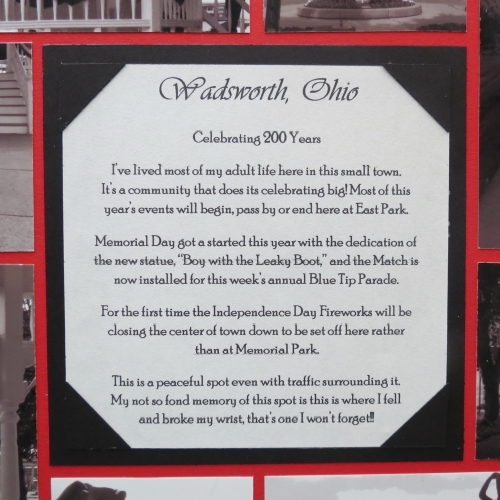 I took a stab at photo tinting in the lower right hand corner photo. Years ago my daughter Libby took a scrapbook class on photo tinting and she bought the markers to do more. Unfortunately she didn't, but the markers survived and made their way into my stash. So, on a trial photo I tried tinting the American Flags in red and a few dots of blue. It turned out way better in the trial, as my hand was far shakier on the real deal...so I limited the tinting to just that portion of that one photo of the new monument. A little goes a long way.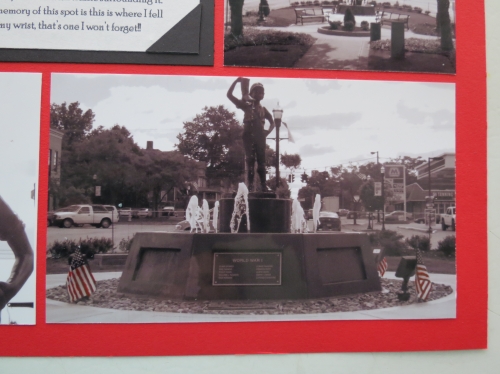 I think this will be one of many pages I do this year as all the events celebrating our 200 years unfold.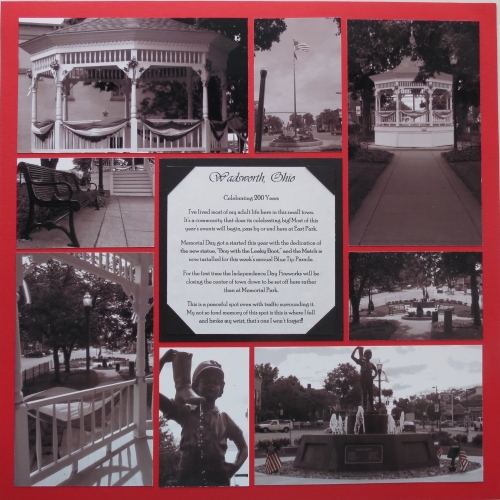 I encourage you to be adventurous, get out there and try something different, try going a bit retro with Black and White!
Good to have you stop in for a look, visit the whole Team's pages and join us with your own, right here!!
andrea
Shared by Andrea Fisher on June 17, 2014 | Memory Date: June 16, 2014