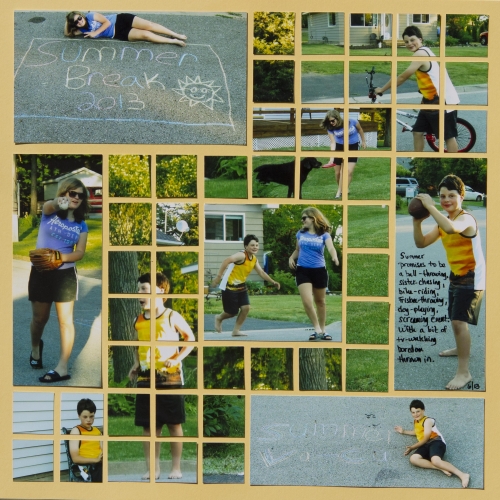 This was the alphabet challenge. We needed to find a unique way to showcase letters of the alphabet.
I tossed several ideas aside before this idea finally hit me ... I thought it would be fun at the beginning of summer to showcase what my niece and nephew planned to do over the summer.
I asked them to draw the title for my page on the road with sidewalk chalk and then climbed up on a ladder and photographed them with their images.
During this process, my niece was picking on her younger brother about the way he spelled "va-ca". Wanted to put an end to the teasing before the pouting began, I went to intervene. As I walked by her drawing, I started laughing. She had forgotten the second "m" in "summer"! Boy did I have fun teasing her about that one!
Anyhow, she remade her sign and happily posed for me to take the photo. Then, I asked her to get some "props" to show the things she would likely do during the summer -- baseball, football, bikes, Frisbee, etc. Both kids showed everything off, just like I asked.
When we were finished, they started playing Frisbee and then chased each other around. I took advantage of the opportunity and took my favorite photo (the one I put in the center of the page) without them knowing it.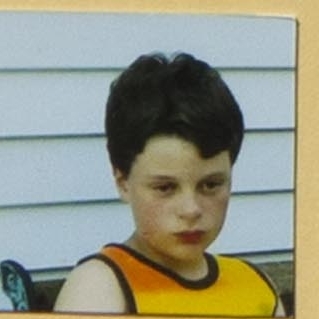 Over the course of the evening, my nephew got a splinter in his foot. He sat down to wait for his grandfather to get the splinter-remover kit. He looked so sad and tired, I couldn't resist taking one more picture -- the one in the lower left where he looks bored to death -- since I am sure there will be moments during the summer when both kids are bored.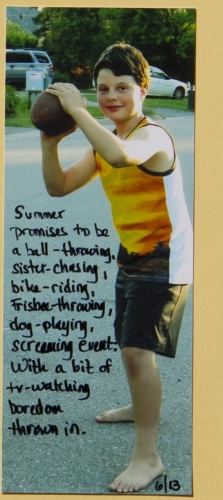 Shared by Candy Spiegel on June 18, 2013 | Memory Date: June 18, 2013