Our assignment was to convey a "forget-me-not" message; more specifically, what we want others (and ourselves) to remember about oursleves at this phase in our lives. We were also to choose String, Mosaic Moments Cornerstones, and/or Doodles as an element or elements in our layout.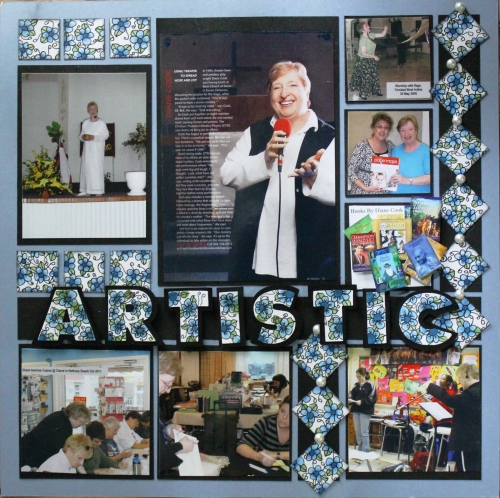 I argued with myself a bit about how I wanted to be remembered. Did I want to do a 10-point Proverbs 31 woman layout or did I want to be more succinct and focus on Success? As you can see, I did neither. Why? Because I am an artist. I always have been. I always will be. Sadly, my mother was a child of the Great Depression and had little use for or understanding of the artistic mindset. In other words, now that you have an artistic child, what do you do with her? I suppose that discussion is for another place and another time.
My artistic journey has taken many twists and turns, but it's always been there, sometimes taunting me, at other times blossoming through me, and always fighting its way to the surface.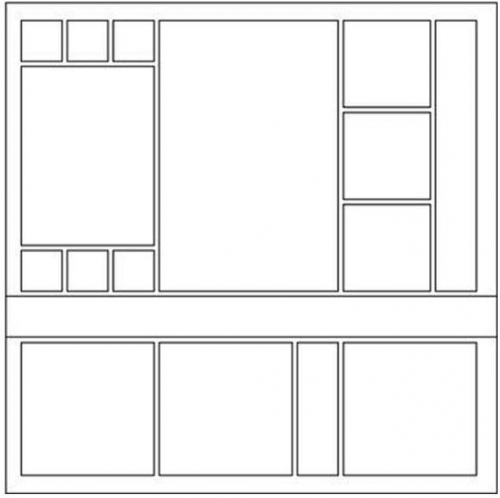 That fight is somewhat represented thorough the "journaling" which is the focal point of my page, thus taking full advantage of our assigned layout – #58. I used a photograph of an article written about me in an early issue of "All Woman" magazine to share some of my story. The article specifically speaks to my audio theatre ministry in the prison environment.
My undergraduate degree was in theatre. Had I remained in college for seven years instead of six, I would have graduated with a double major in English and theatre and a double minor in speech and art. I joined the Air Force to get VA benefits so I could get an MFA in drama and teach at the college level. That didn't happen. Some 20 years after I earned my degree, I was drawn into church drama. For the last 20 years, I've fine-tuned my dramatic endeavors to focus on audio theatre, a very unmarketable skill. But art isn't always about the marketablility, is it? It's about self expression.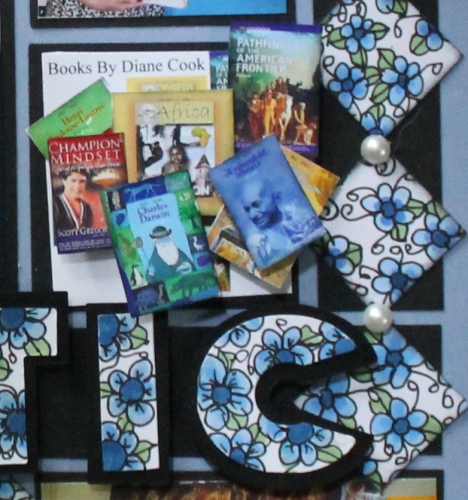 Though I wrote scripts, somewhere along the way, I discovered that I was a writer. After a five-year stint as a newspaper reporter and editor, a moved into the lucrative field of freelance writing – lucrative until the bottom fell out of the online start-ups. A managed to write a few work-for-hire hardbacked books and ghostwrite an autobiography. A few are still available on Amazon, where I pulled these photos. I created a three-D effect by stacking them with foam dots to add volume.
But writing can be a very isolating field of endeavor. While I still worked in audio theatre, I gravitated towards scrapbooking as a viable artistic outlet that engaged all aspects of art -- storytelling, layout and design, photography . . . and the beat goes on, In 2009, after my husband's unexpected hospitalization, I shifted my attention to embrace all the new developments in the field since I started scrapbooking in the early 1960s. My greatest desire was to have finished pieces that looked as crisp and clean as magazine layouts. That's the artistic part. We strive to excellence.
I'll stop my story here so I can share a bit about the process. I knew I wanted to add doodles to my page, but I wasn't sure of how many. I started by dusting off some very old Sizzix alphabet dies and cut them out using Paper Cuts Licorice black cardstock for the shadows and Copic Blend-It cardstock for the detail layer. Using a 0.5 black Copic multiliner pen, I doodled the flowers and colored them with B21, B24, B29 and G21. I liked the general effect, so I continued with the black framing and doodled squares throughout the rest of the layout. I added a little extra depth by placing large faux pearls at the top of each diamond. I did not pop the squares. They seem to pop all by themselves. The title "Artistic" and books are the only pieces using foam dots on the page.

So, how do I want to be remembered? As "artistic" through drama, dance, ministry, storytelling, writing, scrapbooking and cardmaking. As far as the Proverbs 31 woman is concerned, I have a long ways to go. Maybe I'll be prepared to address those 10 points at another time.
Shared by Diane Cook on May 7, 2013 | Memory Date: May 7, 2013