2012 MMDT May Challenge #1-Photo Challenge-Elements of You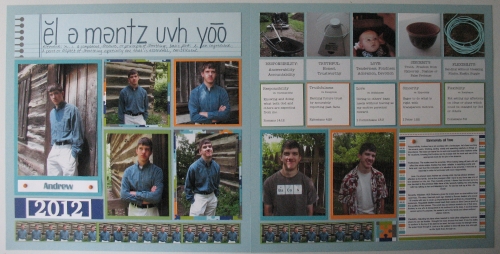 I knew that Andrew would be less than thrilled at the idea of having his portrait taken, and like being the focus of a layout even less. However, as I considered 'elements' I found myself comparing things to him. Most of the words I was coming up with also coincided with our character qualities from our home education curriculum, and qualities I see in him, so I began to revise my initial approach to the challenge.
Photo shoots with Andrew can be as difficult as pulling teeth. Getting him to smile was harder.
If looks could kill is the only way I can describe some. Many are nearly identical; the unvoiced question seemed to be "are we done yet?" So I included a strip along the bottom of both pages that are a series of continual shots that get him in all phases…including a few goofy shots. I do think a few of the best reflect the contemplative young man he is and his more serious side. I included a couple less formal photos featuring his trademark looks including T-shirts like his "elements" shirt, and his Hawaiian shirts (and in cooler weather it would be flannel shirts), the baseball cap remained in the sidelines.
In lieu of senior photos that I never intended on taking, this will be a presentation of my youngest son and go into his scrapbook. I introduce to you…my Andrew.
I've used dictionary definitions, character definitions and the photos of items that in some way relate to Andrew and the character quality, a few that I see demonstrated in him. I had planned to hide the character definitions in the Mosaic Moments Pockets, but decided to feature them with a splash of color and forego the pockets. The patterned papers are Doodlebug Design's Boy's Only Collection. Aqua Mosaic Moments Paper Tiles, orange and lime crush cardstocks for mats, orange brads, and 2012 striplet block from Mosaic Moments are my embellishments. I used Avery labels to put my definitions on and just trimmed to fit the space. I also used Avery business cards for the character definitions, just trimmed to size. This was so much easier because the template was already formatted. I also used a steel gray Zig Writer for the Title. I have used a Robin's Egg Mosaic Moments Grid paper (this was part of a combination set with Cocoa and White papers).
I put the Title, 'Elements of You' in phonetic spelling along with definition.
Thanks for stopping by...
andrea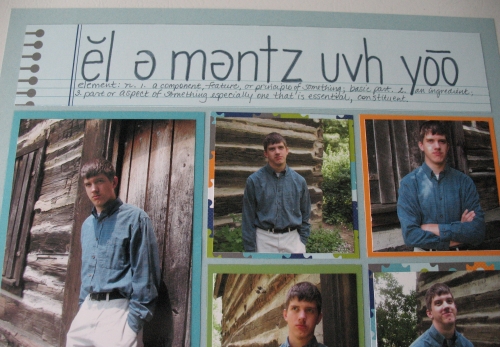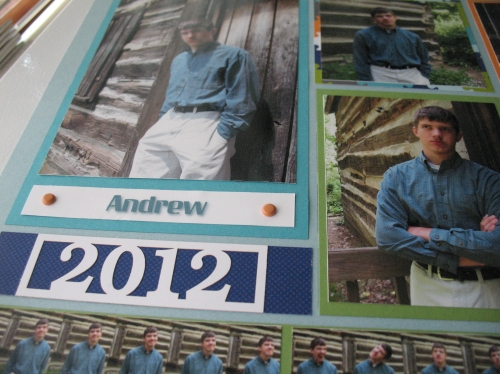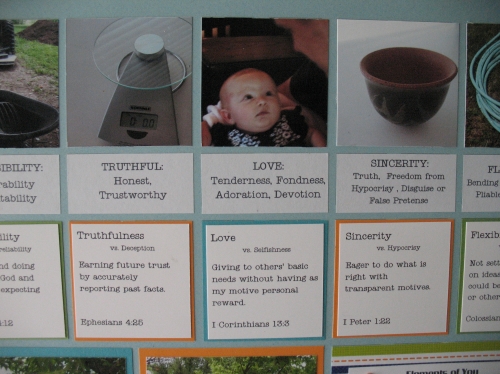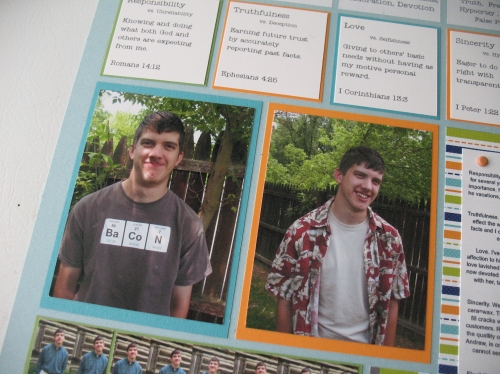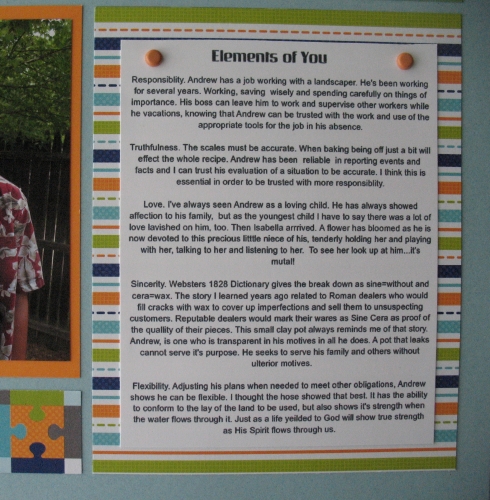 Shared by Andrea Fisher on June 8, 2012 | Memory Date: June 8, 2012