Cole is 7 years + 4 months old and today he lost his first tooth.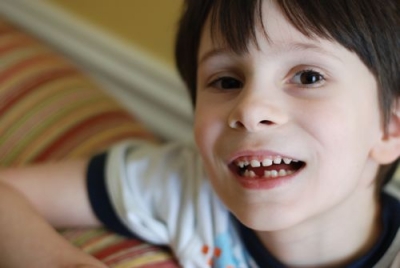 He told us the tooth was loose a week or so ago. Kevin told him to keep wiggling it and that it would come out.
Today we took Cole and Alexis out to lunch - to one of Cole's favorite's (Costco for Pizza.) After he finished eating his pizza, Cole announced to Kevin, "My tooth fell out!" and he handed it to Kevin for safe keeping.
Kevin called me on my cell phone (Alexis and I were in the book section) to see if I had anything I could keep the tooth in. I couldn't find anything; so, I asked some of the workers at the Costco if they had anything I could use to keep a little tooth safe. They were very nice and gave me a small plastic bag.
I guess we will be expecting a visit from the tooth fairy tonight!
Shared by Tami Potter on January 14, 2012