Hi All,
Thanks for stopping by! This challenge was to use spring green grid paper and use page pattern #48 and to include lists, lots of tags or layered photos.
In thinking about this challenge, so many ideas floated through my mind. Would I do my scrapbooking room or my sewing room. I just couldn't decide! Then, my husband and I went to one of our favorite restaurants that we really don't get to visit often because, it's a small spot, and there is usually a wait after 8 am, which means on a Saturday we have to be up and out of the house by 7am to get a seat! Ummm, not something I can do every Saturday as I LOVE sleeping in!!! I decided to "be in the moment" and focus on this spot as it's a great place and my husband and I enjoy our time there.
So, when we get a chance, we love to hit out spot! I love it because it's so cozy and the staff is super friendly. I also love it because of their signature dish: Captain Crunch French Toast!!! It is amazing. I know it sounds like a lot, but all of the flavors go so well together. This spot is located in Fells Point in Baltimore, Md and has been featured on Diners, Drive-Ins and Dives-Yes Guy Fieri visited and left his face on their wall!!! My husband always orders another one of their dishes called: Sweet Baby Jesus!!! It has crab meat, potatoes, eggs and cheese in it. My husband loves it. I always say I'm gonna try it but every time I go, I just want my favorite dish!!!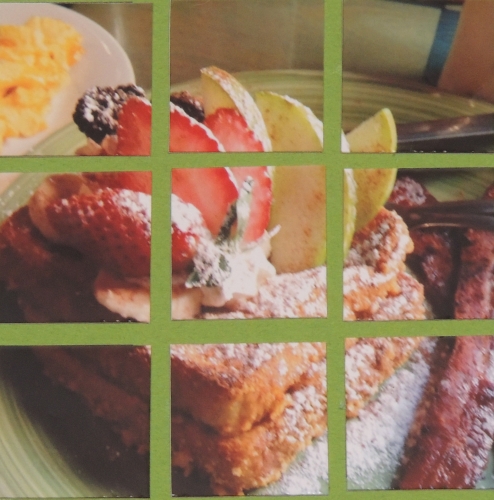 The top middle photo is the Captain Crunch French Toast and the the photo to the right is of the Sweet Baby Jesus! I inked the edges in an attempt to add a bit of color and bring out the photos and I used a marker and free hand wrote the title. I would normally use my die cutting machine, but I decided to do something different. I added my list/tags on the left side as part of the 1" squares.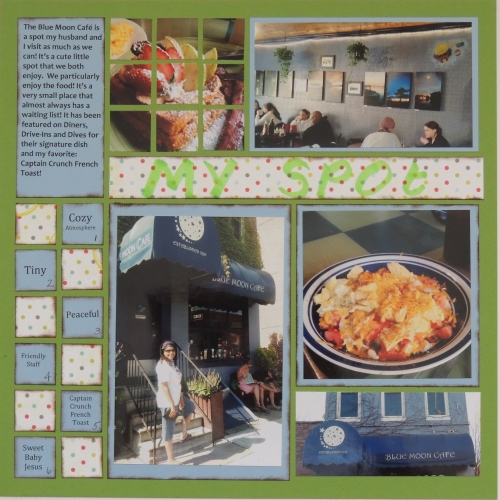 Well, I hope you enjoy and see you around!!!
Thanks,
Shannon
Shared by Shannon Nixson on July 5, 2013 | Memory Date: July 5, 2013