Hi All, thank you for stopping by! This challenge was to use Brick grid paper with page pattern 37. I chose to use pictures from my trip to Disney in December 2010. When we go to Disney, I always have us up at "zero dark thirty" (early in the morning) and we go allll day long!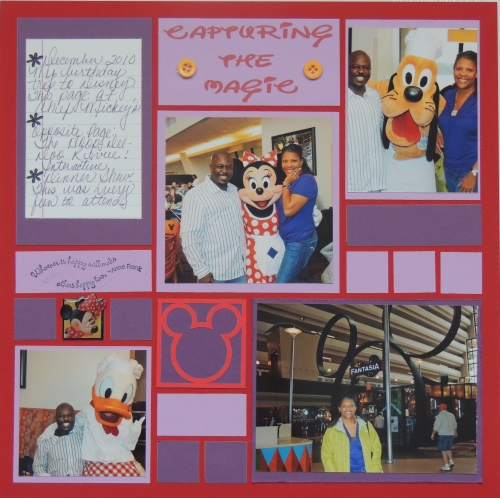 The conversation with the Disney Specialist went like this:
me: Hello, I would like to make reservations for Chef Mickeys.
Specialist: Sure, how many in your party?
Me: 2
Specialist: Any children and how old:
Me: Yes 2 Children, both age 40!!!!
Specialist: Hysterically laughs!!!
In these pictures we are at Chef Mickey's and then that evening we went to see the Dinner Show Hoop-Dee-Doo-Revue! Hilarious interactive dinner show. The actors came out into the audience and talked to the audience and really got us involved. It was a lot of fun! We weren't expecting all of that-but it was great!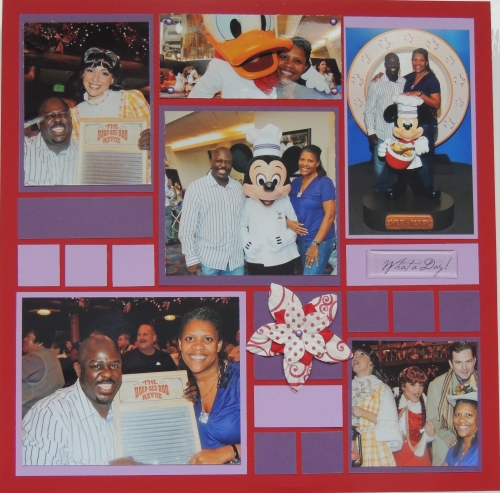 I was a bit worried about the colors in the photos on the brick paper, but I really like the way it came out. I love the purple and lavender paper tiles. I normally stick to colors that "go" together, but this time, I played off of the purple in my shirt and I think it came together well.
I used the notebook paper free download to journal on and I used free disney font to write my title! I also like working in "doubles" so I "flipped" the pattern to have a double layout.
I hope you enjoy it.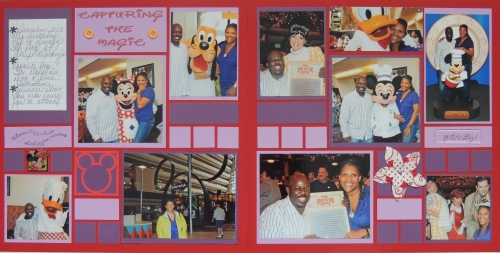 Again, thank you for stopping by!
Shann

Shared by Shannon Nixson on February 2, 2013 | Memory Date: February 2, 2013