Hi!! Here is a page I worked on earlier this month. Here, my husband and I are in New Orleans at the famous Pat O'Brien's who are famous for their Hurricane Drinks! Let me just say, the Hurricane's get you right!!!!!!! LOL!
Sooooooooooooo,
I have a Silhouette Cutting Machine and I wanted to try and cut out an image like a cornerstone (sorta like the ones from the Mosaic Memories store). I tried it and after much working and trying to get the sizing right and back and forth, etc. I DID IT!!! Yay for me! It is of the wine glass in the middle bottom of the page.
I had so much fun, I think I will try it again, but I will keep it simple!!!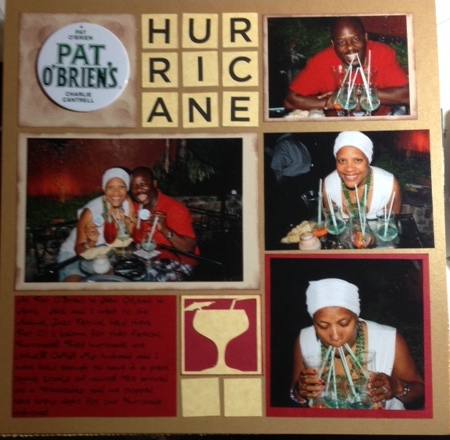 Shared by Shannon Nixson on December 28, 2012 | Memory Date: December 27, 2012