Our first challenge for October was to document our vision of Fall. In NY, Sept. can still be summery, so Fall actually starts in October in my opinion. And that just happens to be the month of my birthday. This past weekend, we celebrated my BIG birthday (not giving away the age!) and this page shows my special celebrations! I had a full weekend of parties, dinners and presents!!
The top right photo was cut in order to fit into that spot. I couldn't leave out the fabulous memory of my dinner party with all my special friends. A tent was rented and set up in our back yard. It was lit by string lights and many candles. My husband had diner catered and I felt just like a special guest.
The bottom left was dinner in a restaurant with my family the next night. Of course, I am in the center photo with some of my great presents!!
Because this page was done quickly to (almost) meet the deadline, I did not have enough time to be overly creative with the embellishments. Luckily I had 2 leaf cornerstones in my stash. Maybe I will continue to work on this page...so that the celebratory feeling lasts a little longer.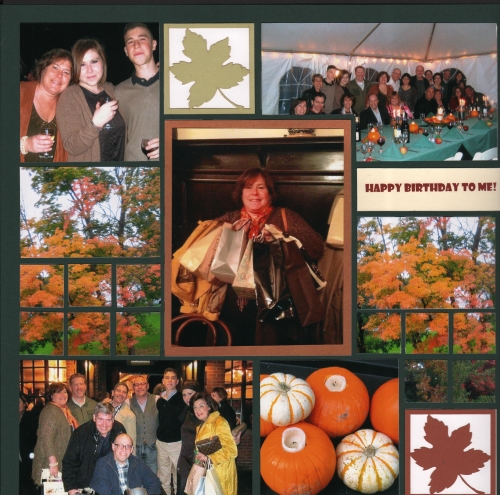 Shared by Beth Glass on October 9, 2012 | Memory Date: October 9, 2012