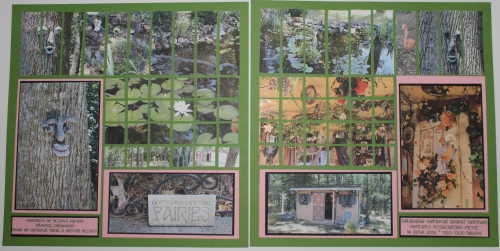 Have you ever visited a place that so exceeded your expectations that you unraveled under the excitement of it all? I found such a place on June 16th at the Delaware National Guard Retired Officers Association Picnic hosted by General Hank and Bonnie McCann at their home near Milford, Delaware. Even though I passed their home many times on my way to Rehoboth, barely noticed their house since it was set far off the road. From the front, who would know what secrets lay in wait for the unsuspecting visitor?
David and I were neither among the first nor the last to arrive. We hunkered somewhere in the middle, late enough for Air Guard guys to arrive but early enough to visit before lunch was served. As we rounded the corner, David saw some people he knew. I followed and half-listened to aviator-talk while I scanned the well appointed back yard. Then I saw it! A small pond complete with waterfall. I wandered over and looked into the crystal-clear water where I discovered brightly-colored koi fish swarming around the edge. I rushed back to our van to retrieve my camera and returned to the water where I started snapping photos. Others soon discovered the pond as well, but by that time my attention fell upon what can only be described as a "fairy garden." It appears that Bonnie McCann has an extra dollop of the enchantment gene because her tree sentinels were keeping a close eye on the comings and goings of her guests. So what did I do? I took more pictures.
Once past the trees, I discovered rock-messengers! They proclaimed profound commands: "Believe," "Dream," and "Don't Piss Off the Fairies." I promised that I would endeavor to do all three and started photographing a variety of flowers in various stages of uncloaking. I was so engrossed with the plant-life that I failed to notice what was on the path ahead! Suddenly, a small cottage, a hideaway straight out of the fairy tales I read as a child, appeared out of nowhere! Without fear, hesitation or respect for privacy, I stepped over the threshold. Wonder of wonders! The single room immediately transformed into a place of sensory overload! I couldn't stop taking pictures!! I photographed the ephemera-filled ceiling, walls with no room to spare, a daybed, table and settee. Clickety-whir-click – my camera captured so many images I couldn't keep up! I wanted to wrap it all up and take it home with me. It was every little girl's dream cloaked in a grown woman's enchantment-indulgence. Practical-minded men couldn't understand the allure of this wonderful place.
"Lunch is ready! Come and get it!" broke through the magic spell, transporting me back to the present. I looked down at my photo counter and discovered that I took almost 250 pictures. Yet my job felt unfinished. I reluctantly left Bonnie McCann's private world and rejoined the party. Never have I been so surprised, so excited about visiting someone's home. I find myself looking forward to next year's event and wondering where the enchantment will carry me. But next time, my camera will stay with me from start to finish, capturing every delicious moment, unveiling each alluring enchantment, enjoying the magic beyond the fun.
Shared by Diane Cook on September 14, 2012 | Memory Date: September 14, 2012