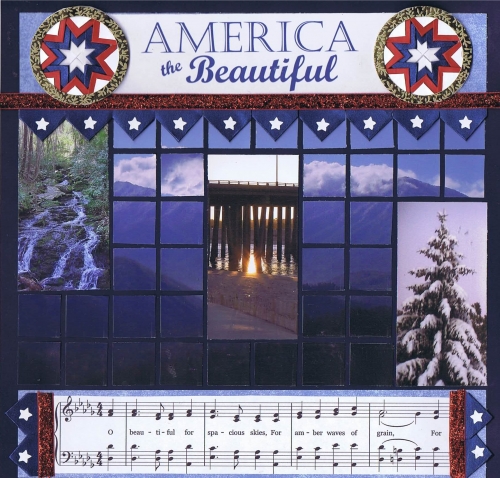 Our first challenge for July was to use a patriotic song as the inspiration for a page. I started thinking about the pictures I might use and knew pretty quickly that I wanted to use America The Beautiful. We have taken some wonderful pictures on our trips down South.
For the large background pictures, I used a photo of the Great Smoky Mountains in Tennessee. The three smaller pictures are of a waterfall in Georgia on the Turnpike, a picture of Shore Drive in Virginia Beach, Virginia from the beach behind our favorite restaurant, Duck Inn, and a picture of one of the trees in my neighborhood after a snowfall.
For embellishments I decided to adapt a folded star pattern to paper. For the banner below the title, I used 1" squares and folded in two edges. For the actual star embellishments on each side of the title, I used 1" by 1/2" pieces and folded in two edges (by cutting off the other half, it cut some of the bulk). I then cut the gold circles using Spellbinders dies on my Cuttlebug.
To see instructions for making the star embellishments, see my blog here:
http://nancyscreativespace.blogspot.com/2012/07/america-beautiful.html
Shared by Nancy Sanders on July 8, 2012 | Memory Date: July 8, 2012