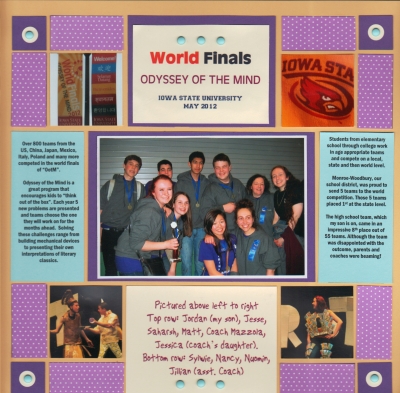 Our second challenge for May was to create a page using Pattern # 13 and Sunflower paper. My son is involved in a wonderful program called Odyssey of the Mind and we just came back from Iowa State University where his team competed in the World Finals. I chose this event to document for this challenge.
We had a choice of a poem, quote or multiple journaling spots for this layout and I chose the multiple journaling as this page needs some explanation.
My original plan was to do a page of the whole (long) journey from upstate NY to Iowa. We flew to Kansas City, Missouri and rented a car and drove the rest of the way to Iowa. But the Kansas City photos weren't working well so I limited it to just our time at the competition.
We had several hours free on Saturday afternoon and my husband and daughter just wanted to relax at the hotel. Hmmm, I thought...maybe there's some good shopping in Iowa so I googled scrapbook stores and came up with Memory Bound, Central Iowa's Scrapbook Superstore!! Off I went in the rental car which thankfully had GPS! After a couple of hours and more than a couple of dollars, I returned to the hotel pleased with my purchases and ready for the evening awards ceremony.
Due to limited space, the photos of the scrapbook store didn't make it onto the page. I am sure that I will make additional pages of this special weekend which will include an ambulance in Kansas City, a photo of the stadium filled with students from around the world and a picture of Memory Bound!
Shared by Beth Glass on May 29, 2012 | Memory Date: May 26, 2012