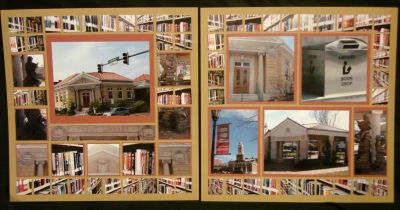 So, I live in one of those super charming small towns that looks like a Norman Rockwell painting or a postcard. I was born and raised here. However, I do not enjoy "promoting" my little corner of the world. Tourism overwhelms the area in the summer for the quaint antique shops and train rides and our adorable old-fashioned 4th of July Parade. In the winter we have a horse-drawn carriage parade that brings in tens of thousands of people.
Lebanon has been the setting for a number of movies including "Milk Money" and "Harper Valley PTA." President Bush and other politicians have visited our landmarks. A number of politicians and notable celebrities, including Charles Dickens, have spent the night at our Golden Lamb Inn. Our population has been constantly on the rise all my life. And, I gotta be honest with you, I'm not about it! What people don't seem to realize is that the infrastructure of this "quaint" little town wasn't made for the constant growth and the influx of tourism. The more people who move here, the less quaint it is. There is constant new construction of cookie-cutter houses, woefully insufficient parking, etc. etc.
I went out and took pictures of Ohio's Oldest Inn - The Golden Lamb, the Golden Turtle Chocolate Factory, the famous little Ice Cream Parlor and all of Lebanon's other not-so-hidden charms. When I sat down to arrange them, nothing "spoke" to me. All of these things make me think of crowds and tourism and made it hard for me to "sell" a day in the neighborhood with the same enthusiasm that my Design Team peers have brought to their work.
Then, it hit me. The library. We have the most awesome library. http://www.lebanonlibrary.org/history.asp
So, I settled on the part of town that makes me happy. The one spot in Lebanon that is always a happy place for me. It is an original Carnegie Library and has seen a lot of changes in my lifetime, but it has always been a quiet refuge.
I used Toffee grid paper and some Bazzill cardstock in a color that I tried to match closely to the fabulous terra cotta style roof. Our city streets have some brick sidewalks that are "cobblestone" looking and those same elements are featured in our new library reading gazebo. I took lots of wide-angle pics of the rows of books to feature as my "mosaic cut elements."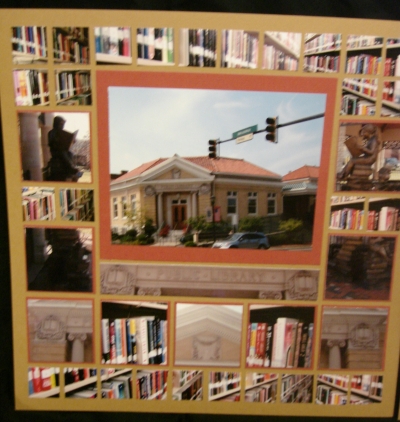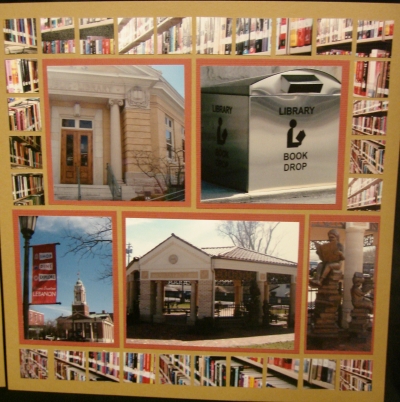 Shared by Deborah White on March 19, 2012 | Memory Date: March 12, 2012