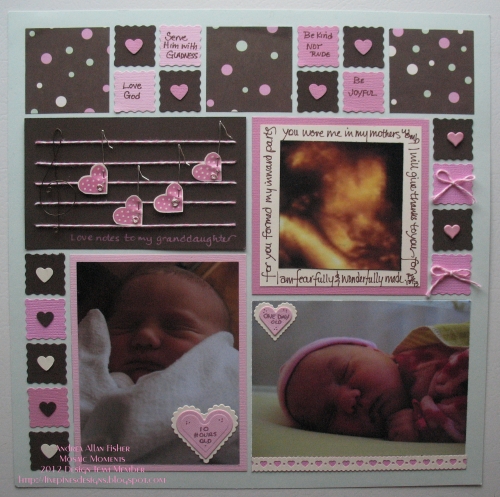 Love Notes to My Grand-daughter.
Welcome to my take on this month's second challenge.
Have you ever had a plan for a layout that takes on a life of it's own? When we first received our assignments, I thought this would be so great to use all my scallop punches, and colorful twine...We would be doing the Chocolate Festival and I thought I knew where I would go with this. Then Isabella arrived a bit earlier than I counted on...and all of a sudden frilly girly things started rummaging around in my head. At the same time, so did a huge list of things (thanks to Tami for this exercise for organizing ideas to scrap and journal about) I wanted to say to my granddaughter....and so for the past week and a half I've been trying to reduce those thoughts into this layout, rather than the book, I know I will probably have to "write" one day!
This month's challenge:
Required:
Lotus paper
Mosaic Moments pattern 19-checker inset border
options to include:
handwritten journaling
hearts & strings
scalloped edges
a Mosaic Moments free download
The Lotus paper is a very soft green. I didn't want it to disappear in the background. I had paper I'd picked up for announcements or thank you notes that co-ordinated with colors my son and his wife were decorating the baby's room with. I chose two shades of pink, a dark brown and cream that all co-ordinate with the pattern paper that contained those colors.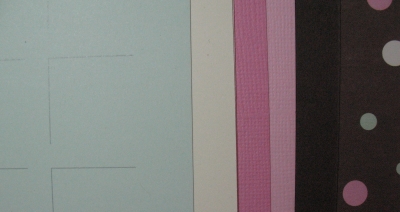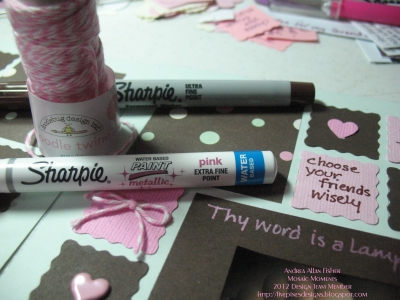 I have also used:
Cupcake Doodle Twine by Doodlebug Design Inc.
heart shaped brads
1" scallop square punch
hearts-classic and scalloped dies by Spellbinders
small punched hearts
dotted heart stamp from a Petit Four heart set by DeNami Design
Martha Stewart scallop heart ribbon punch
craft wire from Darice
Sharpie Ultra fine Brown marker
Sharpie pink metallic extra fine point water based metallic paint pen
Dew Drop Brilliance ink-Pearlescent Orchid
Dew Drop Versa Magic chalk ink-Pixie Dust
pink cardstock-Bazill Mono Pinks
cardstock brown and cream-Hollos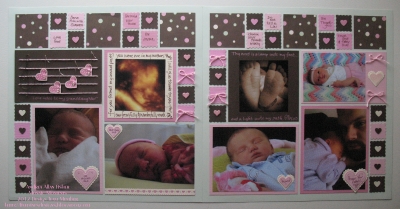 I wanted to play up the checkerboard elements in this pattern in a baby quilt-type feel. In the top "quilt squares" I have inserted some of my "Love Notes" with the tiny hearts in the scalloped boxes opposite. The boxes down each side have "chocolate" hearts...sorry, it WAS Valentine's Day this past week! The center section with hearts and bows continues to play up the checkerboard/quilt square feel, and while when I tie quilts I don't use a fancy bow, it did seem to be the girly thing for this spot.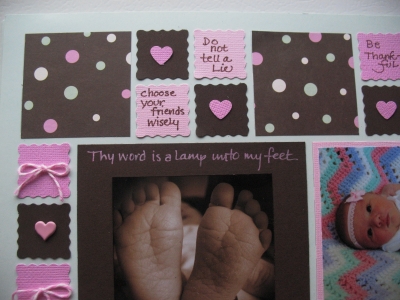 My Title: " Love notes to my granddaughter" title block is handwritten and is placed beneath the larger 'Love Notes' visual, like the lyrics in sheet music . This is the Cupcake Doodle Twine strung in a musical staff, complete with a "score" made with stamped hearts and craft wire.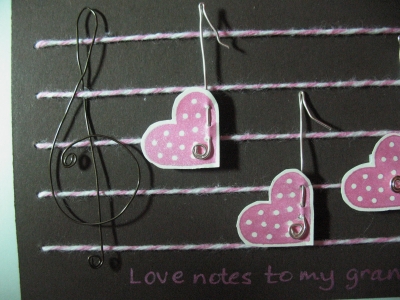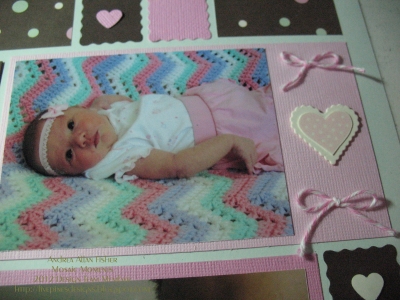 Okay, I'm going to tell you this is a detail shot is of the bows and layered hearts that are stamped and embossed, but really, it's a close up on Isabella with her eyes open, and her biased 'Grandy' thinks it's a great photo!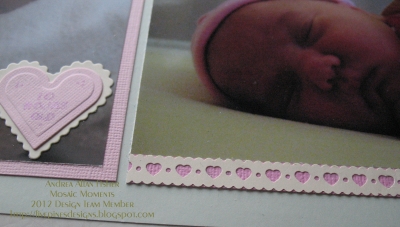 love this "ribbon" punch from Martha Stewart! It's about 1/4" to 3/8" wide and covered the gap between my 4" photo and the 4 3/8" space without making a mat.
Photos here include a 3D Ultrasound photo, at 10 hrs old and one day old.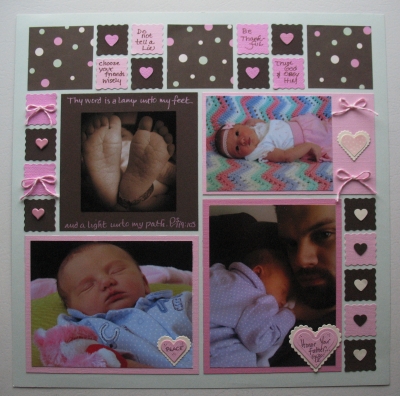 Love note with photo of David and his daughter says "Honor your Father... Ex 20:12"
My daughter congratulated me for beginning a scrapbook for Isabella and having one page done before she's a month old. I hadn't thought of it like that...it was just the challenge...now there's pressure to actually DO an album for Isabella...oh, wow, what have I started?
thanks for stopping by for a look!
Shared by Andrea Fisher on February 20, 2012 | Memory Date: February 20, 2012