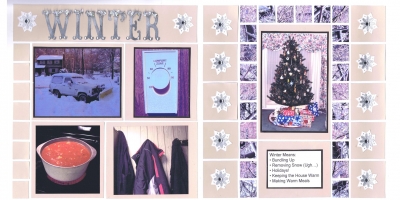 Our first assignment for the Mosaic Moments Design Team was a photo challenge to create a layout showing the five things that mean winter to us.

I included:
- a pot of stew (we make stew usually once a week in the winter time. It's warm plus it makes great low-fat lunches!
- coats - I hate having to put on a coat whenever I go outside. When it's time to wear a coat, it's winter!
- a thermostat - In the winter my husband and I have a constant battle with the thermostat. He's always cold and he will turn the downstairs thermostat on 80 degrees if I don't keep an eye on it! Then the upstairs will be stifling!
- a plow pushing snow out of our driveway
- and finally, a Christmas tree. A big part of winter is Christmas - getting ready for Christmas and then putting everything away for another year.

The pictures I chose gave me a bit of a challenge. Three of them went together well, with kind of pink and gray tones, but two of them had red in them. I could have printed them in black and white, but I didn't want to. So, I decided to just make my background rather neutral. I added pictures of ice-laden branches around the picture of the Christmas tree to bring out the frozen theme, plus add more of the gray/pink hues.

I used one of the snowflake stamps from the collection of goodies Mosaic Moments gave us for my border pieces, and hand-cut around them, finishing with a rhinestone in the middle.

I made a special treatment with the title. I first cut the letters out of gray metallic cardstock (Wausau). I then painted the top halves with Moonlight Smooch.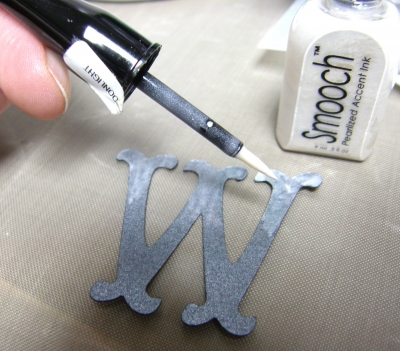 I then added a little Viva Decor pearl pen to the bottoms of the letters.


Finally I topped them with Polar White Flower Soft. That didn't give me quite the look I wanted, so I added a little Faux Snow.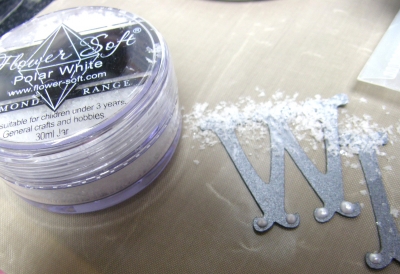 Hope you like it!
Nancy


Shared by Nancy Sanders on January 1, 2012 | Memory Date: January 1, 2012