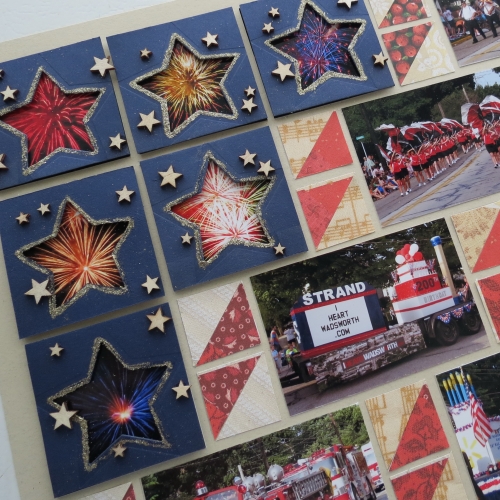 We were to create a page with Stars and Stripes for our July challenge. We could also include these elements: Pop Dots, glitter or/and mini banner.
Summer events here in our town are focused our 200 year anniversary. There are a lot of new things planned all summer long, but two of the annual events are the Blue Tip Parade and the Independence Day Fireworks show. I'm featuring photos from both events on my layout today.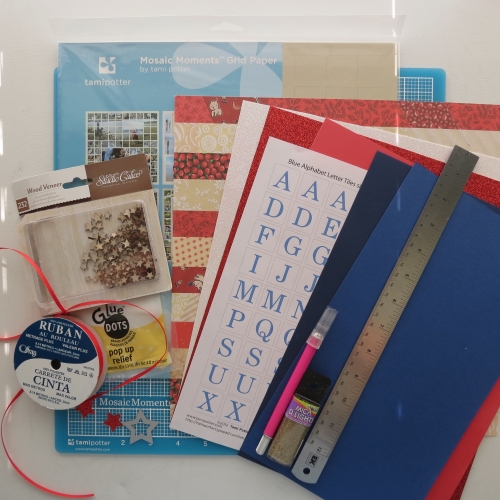 I began with Mosaic Moments 12 x 12 Grid Paper in Sand. Paper Tiles in Navy, Cobalt, and Almond Cream for various accent pieces. Glitter paper in red and white, gold mica glitter, small wooden stars, ribbon and a free download from Mosaic Moments. I have used additional pieces of red and blues for mats and titles and patterned paper for the chevrons. For the banner a narrow 1/8" red ribbon to string and for bows at each end.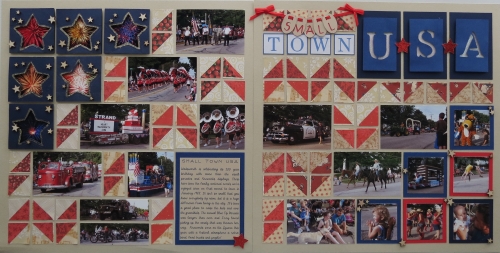 For my stars, a 2 1/8" navy square was cut with a star die, then glitter around the edge for emphasis and pop dots were used to give some elevation. The fireworks photos were cropped to center the bursts. A final touch of tiny stars were attached in a casually scattered look.
I selected photos that would work well as a square or cropped to cover 2 x 3 blocks. I wanted to keep my photos to all horizontals and my title and journal blocks were verticals.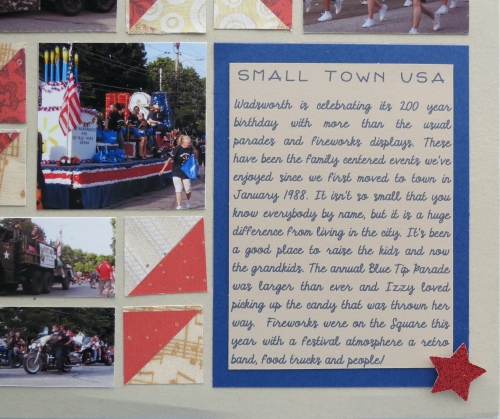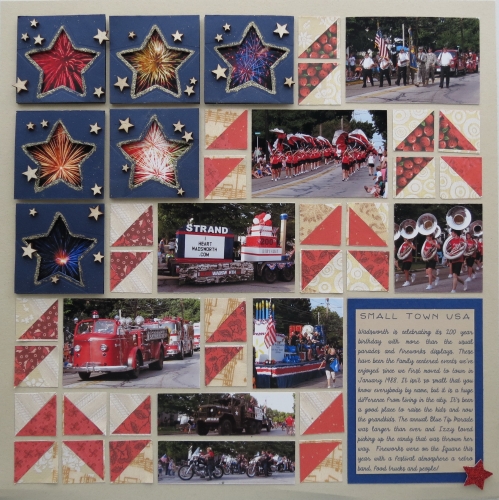 On page one I clustered my star blocks in the top left corner and then ran a chevron pattern across both pages for the stripes of a flag rippling in the wind look with photos dispersed on both sides. The lower right corner on the second page repeats the square clusters without the star frames. The tiny wooden stars are again scattered over this area.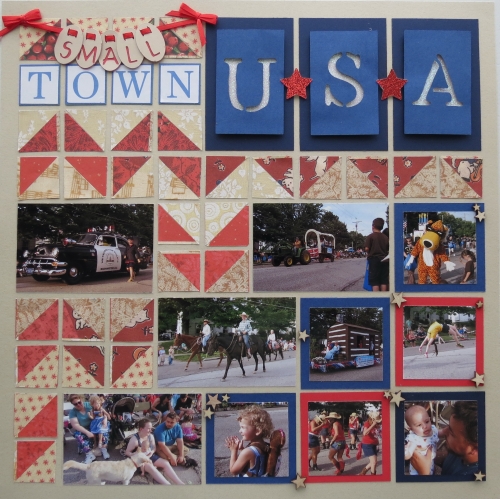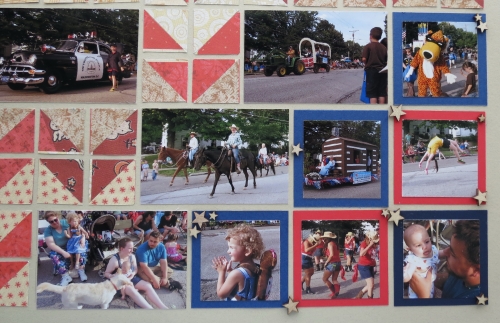 The title on page two is where I have placed the banner. The letters were cut using a Cricut and the ribbon is threaded through each tag slot. Slits at the top of end blocks allowed me to slide the ribbon ends through and secured. A single glue dot was attached to the backside of the "a" tag and pulled into a swag shape. A bow was attached at each end to cover the area slit.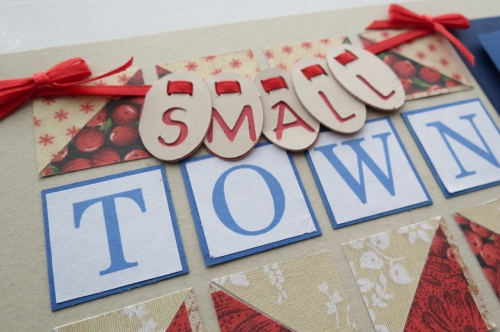 Using 4-1" Cobalt Paper Tiles and the Free Down load for the blue letters. I trimmed a little away from the punched out letters so that a very narrow edge of the blue tile shows from below.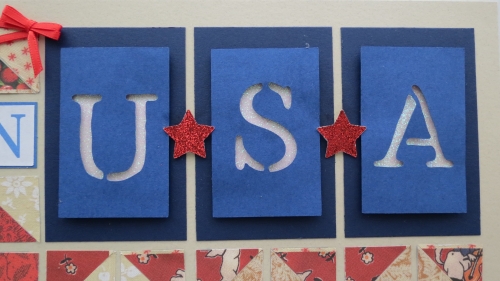 For the USA portion of the title The Cricut was used for stencil style letters to be cut and again, I have mounted the letters using pop dots. The white glitter cardstock is under the letters for a little sparkle and two die cut red glitter stars are mounted on pop dots and centered between the letters.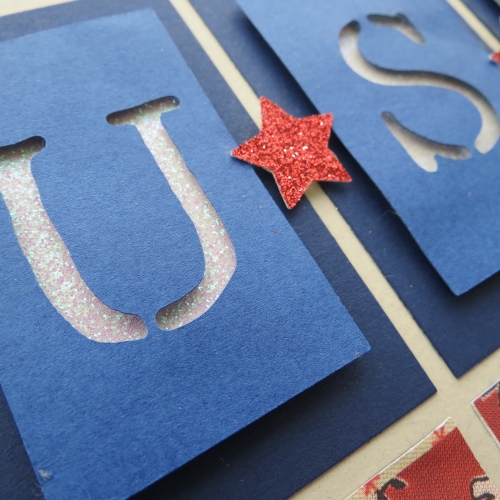 The paper for the chevron tiles is a patchwork style paper that had rows close to 1" wide that gave a lot of variety in the patterns. It added to the patchwork quilt and Americana feel to the color scheme that I thought was good for a 200 years celebration!
I hope you've gathered a few ideas from the team in this challenge to put together your own Stars & Stripes layout! We'd love to have you share your summer celebration layouts with us here on Journella.
thanks for dropping in...
andrea
Shared by Andrea Fisher on July 21, 2014 | Memory Date: July 20, 2014