In our latest design team challenge our theme was stars and stripes. Of course this time of year that brings to mind red, white and blue, the flag, July 4th, the list is endless. I chose to do a page on parades. As a mom of now her 3rd, cub scout I have marched in many memorial day and July 4th parades. So I wanted to do this layout with some of my parade pictures.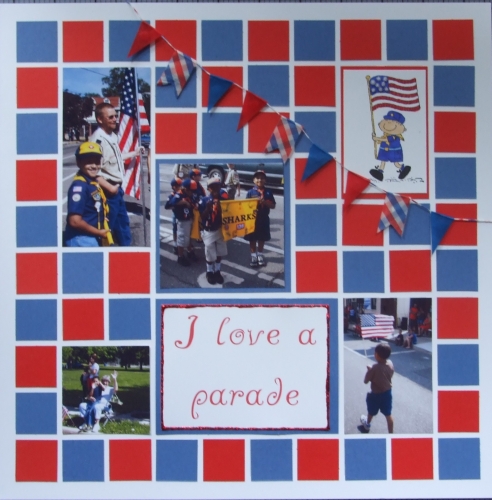 We always have the American flag being carried in our Cub Pack and we also have the boys carry their den flag (my Bryce's den is the sharks) There are always plenty of family and friends on the sidelines to wave and clap as we go by. My youngest son wasn't old enough to be a scout yet, but he proudly marched on the side caring a flag. Each year I have my boys carry flags in the parade and then I take them up to the Veteran's cemetery where my Grandfather and Grandmother are buried and we put them on their grave site.
I started with Mosaic Moments grid paper in white. I then got out my paper tiles in Cobalt and Brick.
We were asked to use 1 or more of the following: glitter, pop dots or mini banner.
I decided to do my mini banner using "bakers twine" and my washi tape. I generally make my own bakers twine using my Copic markers and crochet thread. (You can view a step by step on my blog.)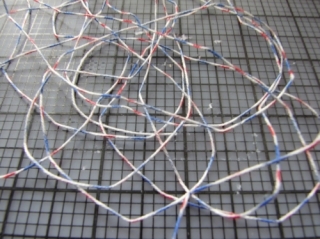 After taping a length of twine to my Mosaic Moments mat, I got out my washi tape in solid red, solid blue and red, white and blue stripes. I find that reusing empty scotch tape dispensers makes it easier to tear the washi tape and find the end piece.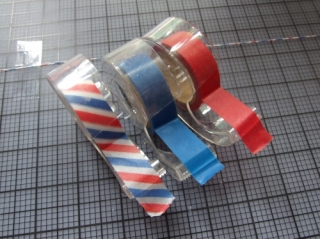 I tore off about 2 1/2 inches of tape and wrap around the twine folding it over on itself. I
trimmed each piece to 1 inch and then either cut it in to a banner end or a triangle end.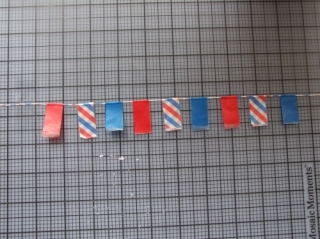 Then using pop dots I added it to the page giving the banner some height over the tiles.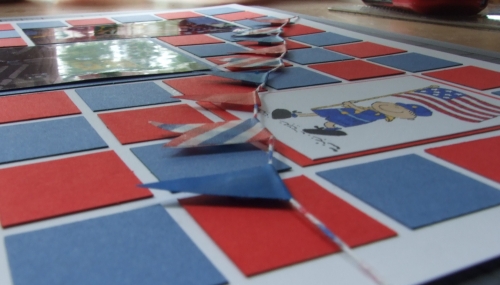 I incorporated the glitter aspect in the stamp I used (Stampin Up's Scouting Around) I colored in the image with copic markers B29, R29 and Y35. I used frosted lace Stickles on the stars. I also made a border around the title using xmas red Stickels.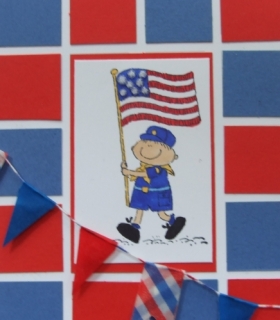 Thanks for stopping by!
-Melissa
Shared by Melissa Fulgham on July 20, 2014 | Memory Date: July 19, 2014