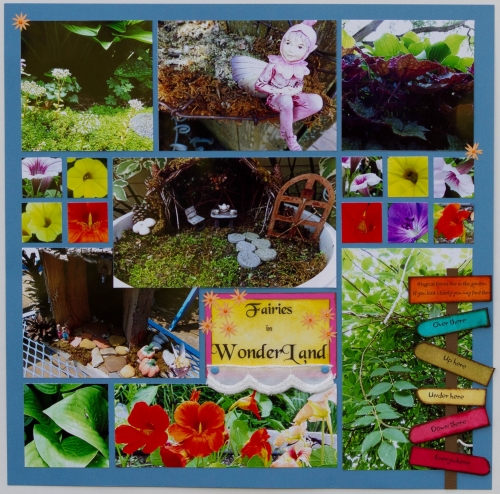 My mom has an amazing yard filled with flowers, shrubs and fairies.
She has lots of places for fairies to hide, but she also has quite a few houses and rooms all set up for them with glitter and tea pots and chairs -- many of which she made herself.
So, when we were asked to do a page inspired by Alice in Wonderland, I thought it would be fun to showcase some of my mom's gardens and fairy homes.
I took several pictures around my mom's yard -- in the area designated The Fairy Garden. I got down low to get photos that replicate what a fairy might see if she walked along the ground. And, of course, I took a few photos of her fairy houses ... then I got to work.
Whenever I think of Alice in Wonderland, the first thing I think of is the Disney version of Alice with bright yellow hair, a blue dress and a white apron. So, I started with Bermuda Blue Mosaic Moments Grid Paper. I made the title background yellow, like Alice's hair and included a bit of ribbon that reminded me of her apron.
I wanted to include a bit about looking around for the fairies, since they often hide in foliage. I thought of the crazy directional signs that made it impossible for Alice to get anywhere and thought that would be a cute way to describe where to look for the fairies.
I started by printing out the portions of the sign on computer paper. Then I adhered it to chipboard.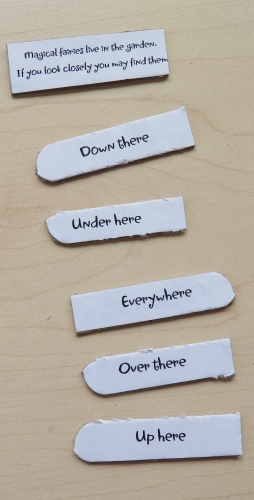 I cut them apart and then used a corner rounder to turn them into directional signs. Because the pieces are so small, the corner rounder made irregular edges, which I wanted because it keeps with the fun of the subject.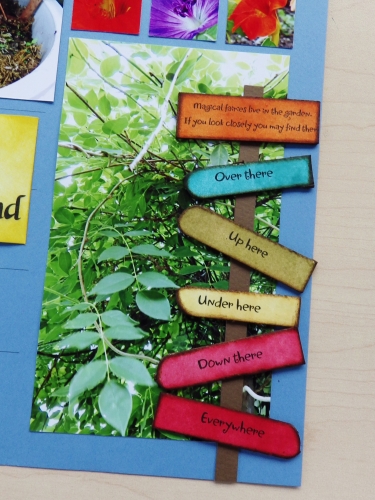 I then inked each of signs in a color found in the movie, added dark brown on the edges and then adhered them to a strip of cardstock I used for the pole.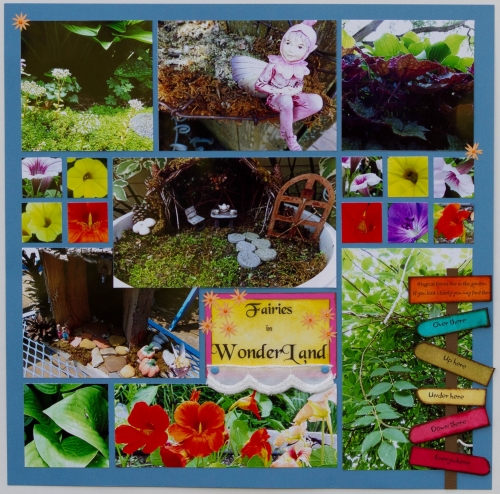 Shared by Candy Spiegel on July 2, 2014 | Memory Date: July 1, 2014