March's Challenge #6: Inspired by Hitch Hiker's Guide to the Galaxy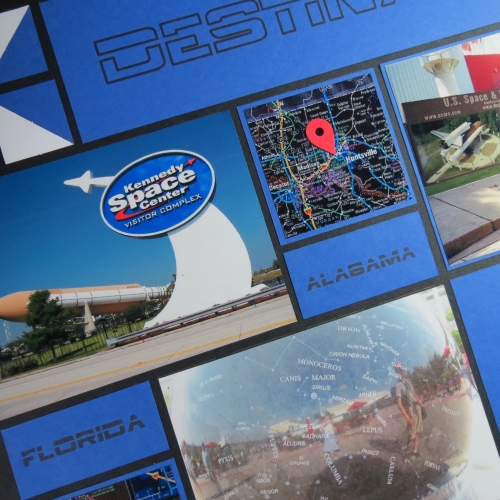 Science Fiction is no stranger to our family. This book however was new to me…I kept confusing it with another story we listened to on a trip that drove me crazy. It wasn't, but it drove me nuts, too. However, I found Paije's newsletter inspiration pointers to be most helpful in prepping for this challenge. I just couldn't make up my mind what to do. Once I narrowed it down, I continued to change my mind, change my layout and all together over think what I wanted to do. In the end it's quite simple and I'm really coming in at the wire this time, so let's get to it!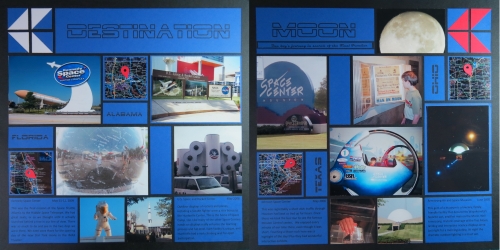 I've been planning to do a scrapbook for my son, Andrew, of our various trips to several Space Centers in our trips over the years, for far too long. This is my attempt at getting started. In the end I decided to do an introduction type layout with a few photos of each place. I'm taking the idea of 'traveling to new places' this time.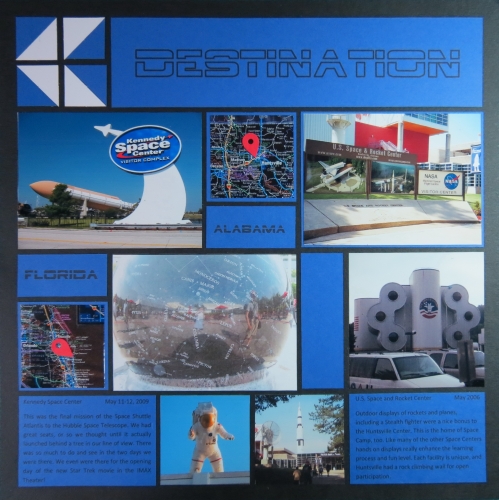 Journaling page 1:
Kennedy Space Center May 11-12, 2009
The elements of a guide book that I have used in the layout are of course the photos, additionally a map, with the destination pinpointed and a short write up of each place. Now these maps I began by scanning the map into the program I use (ACDSee) for photo editing and tried out the negative special effect. I thought this gave it a very futuristic look.
U.S. Space and Rocket Center May 2006
Outdoor displays of rockets and planes, including a Stealth fighter were a nice bonus to the Huntsville Center. This is the home of Space Camp, too. Like many of the other Space Centers hands on displays really enhance the learning process and fun level. Each facility is unique, and Huntsville had a rock climbing wall for open participation.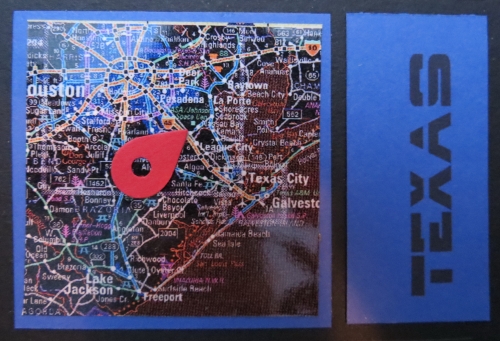 I created a few map points by punching a hole and then using a teardrop punch centered around the first hole punched.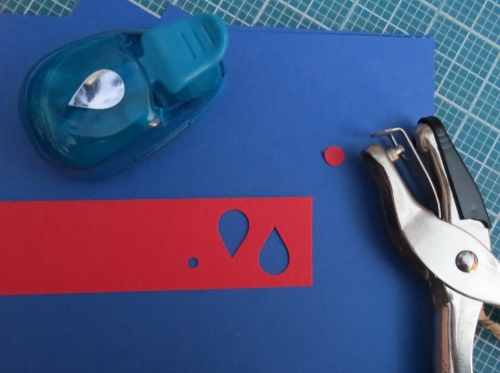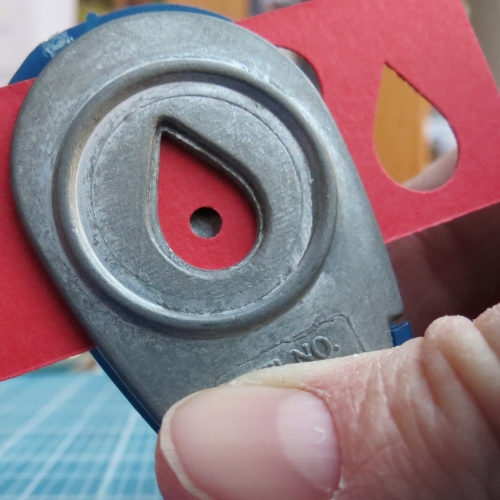 The font I used was BORG9 and was printed right on to the cobalt blue cardstock. I liked how this color enhanced the night lights on one photo and was so sharp against the solid Black 12 x 12 Mosaic Moments Grid paper. The Cobalt is also used for the tiles with the names of the states where each place is located.
Our new corner tiles in white and red were perfect for creating a chevron arrow to give a directional flow in my double page length title. The moon shot is one I took a few months back with my point and shoot Canon SX40HS. It has a great zoom and stabilizer for shake, but it still took some patience to get it focused.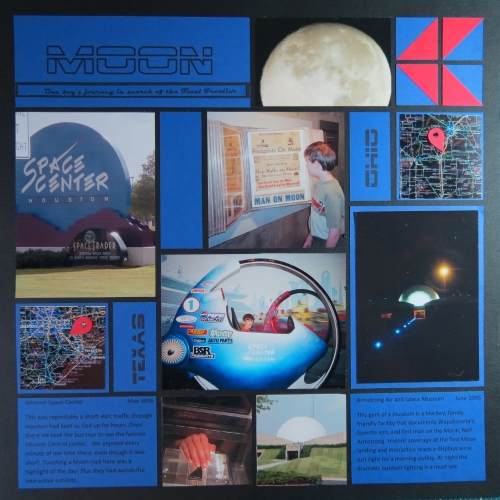 Journaling page 2:
Johnson Space Center May 2006
This was regrettably a short visit; traffic through Houston had kept us tied up for hours. Once there we took the bus tour to see the famous Mission Control center. We enjoyed every minute of our time there, even though it was short. Touching a Moon rock here was a highlight of the day! Plus they had wonderful interactive exhibits.
Armstrong Air and Space Museum June 2005
This gem of a museum is a low key, family friendly facility that documents Wapakoneta's favorite son, and first man on the Moon, Neil Armstrong. Historic coverage of the first Moon landing and interactive science displays were just right for a morning outing. At night the dramatic outdoor lighting is a must see.
Thanks for stopping in, hope you are enjoying the Team's layouts this challenge...join us some time!
andrea
Shared by Andrea Fisher on March 22, 2014 | Memory Date: March 21, 2014