#1-2014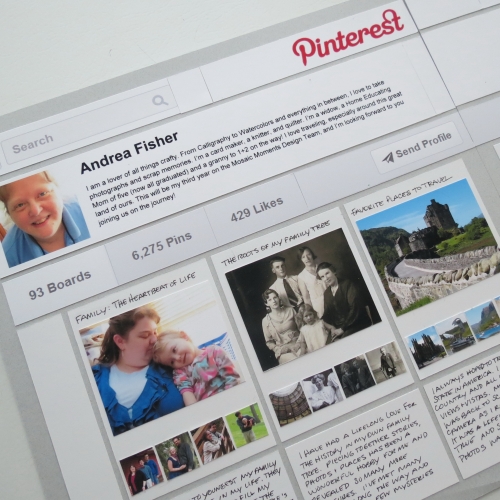 Pinned!
Welcome to the Story Board and the new 2014 Design Team…well, you know most of us and you've met our newest member, Melissa. If you've followed for a year or two you've picked up a few details of who we are. So, tackling the task of telling you something new about me was just that, a challenge!
It became the perfect time to try an idea I've had in the back of my mind to do for some time. One of my newest fascinations is with Pinterest and I thought imitating my pin board might be a good way to showcase six things about me.
· I began with 2-12"x12" Granite Mosaic Moments Grid Papers
· 6 white Paper Tiles 3.25" x 5.5"
· 6 white Paper tiles 3.25" x 2.125"
· Screen shots from my Pinterest Board for headers
· Matte photo paper for printing logos and photos
· Cutting mat, Exacto knife, metal ruler and photos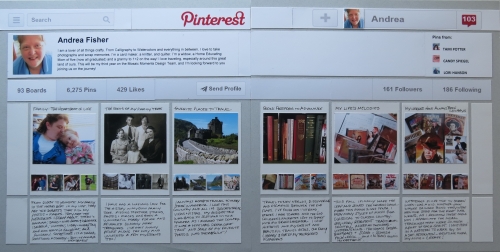 For my page header I wanted it to span both pages to look like one piece instead of two. The photo I have used for my profile here is not the one you'll find on my real board, but it is one for you to see who I am here, and the most recent one! Likewise the journaling in the profile section is specific for this audience and this challenge, not what is up in the original. I even custom created my own block of "pins from…" with Tami, Candy and Lori, members of the MM Team! I cropped the Screen shot I took to get the Pinterest logo banner strip above and below my profile section.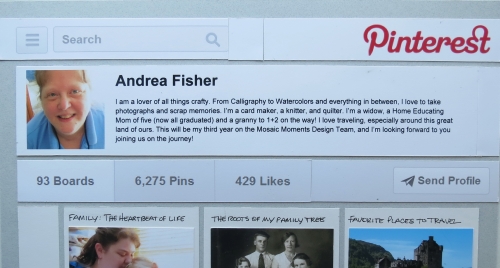 On each of the six "pins" I used one large photo (printed on 3.5x5" photo paper, two prints to a page,) and four smaller photos (24 photos printed in the contact sheet setting in portrait view with 4 columns and 6 rows), adjusting settings until I thought I had a ¾" square with which to work. I trimmed using the mat and knife, but in the end I landed up trimming a smidge more off. Tedious! I wish I had just used the ¾" square punch, it would have saved time.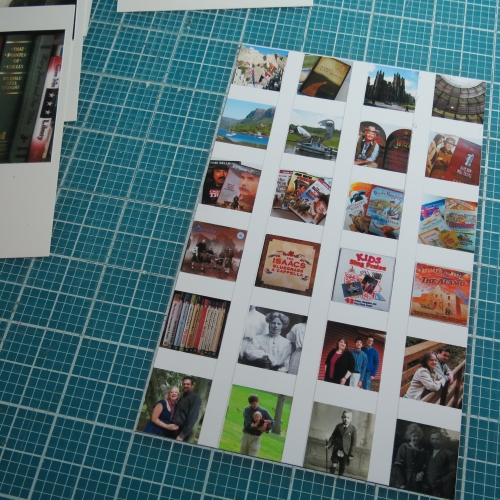 You can see my cut lines here and see what I didn't at the time, my cut marks are off, it wasn't until I began to strip the sections away and try placing them on the pin card that I was going to need to trim each one individually.
I used the smaller tile to journal about each 'pin' in the area that would normally be a drop down section for comments on the Pinterest Board. I went with hand written journaling for each block to give it a bit more handmade touch. Here's a look at each pin and journaling: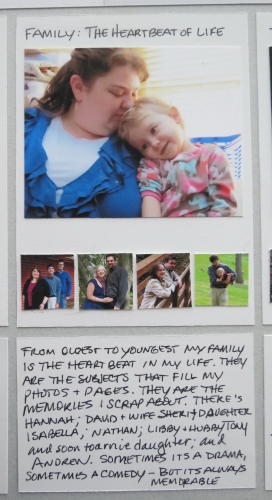 ...and yes...this photo is "staged," however it is important to note HOW. Hannah and Isabella were sitting in my room together snuggling and about 3' in front of her, Izzy could see my camera bag sitting and began to reach out for it asking for her photo to be taken...HAM...so I grabbed the camera and just happened to catch Hannah as she turned to give Iz a kiss on the head...snap...then she wanted to see it immediately..."awww" she says with no prompt. I have created a monster...
I'm the family amateur Genealogist. I play in trees.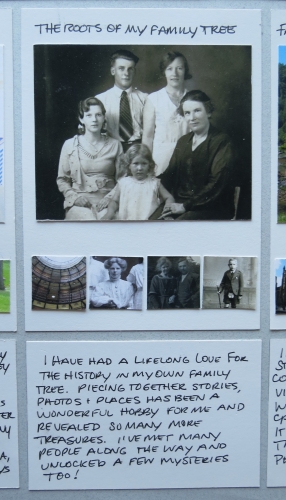 Not brave enough to live a true gypsy life, but never passing up a road trip...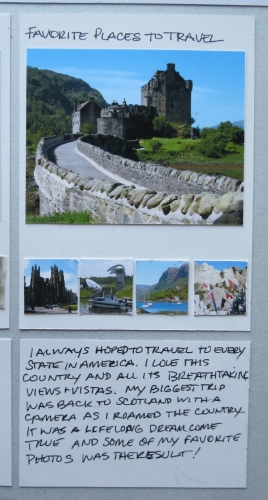 Whenever I need to get away there are always....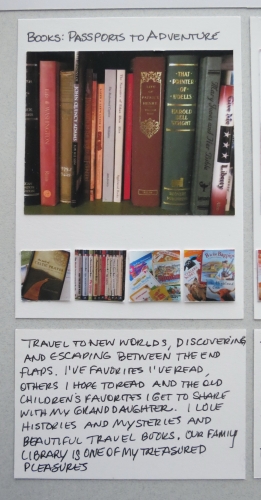 ...my personal library is always available to be booked!
Many of the big events in my life have music that has accompanied the event...like hearing Tim McGraw's "Live Like You Were Dying" minutes after getting my husband's terminal diagnosis. Sometimes I scrap with a song in mind, these are some of my sources of inspiration.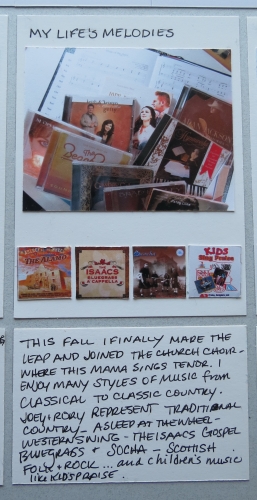 I like to scrap with a video on. A good western is never far away; the old ones take me to a place far away from the troubles of today, there were good men, moral men, courageous men it's why...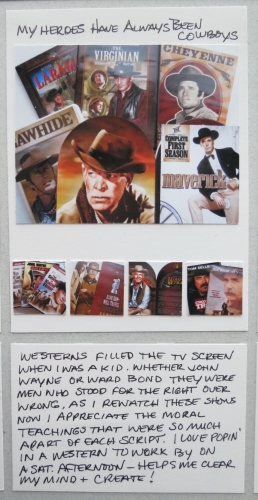 So, hopefully you know something new about me...I hope...and you can see how to try a page showing off some of the current social media trends you are apart of today. When I first began with the Design Team in 2012 I did a layout showing off things I was apart of then and looking back, how much has changed! Not only can you find me on Pinterest...but I have taken the plunge and I'm going to try out Twitter too!! You can follow me there (@andreafisher5PD) for up to the minute posts on the latest work here for the Design Team or my posts on Tami's Blog with the Tips and Techniques section.
There's a lot of exciting things ahead for Mosaic Moments in 2014, be sure you are following with the Newsletter that is moving to weekly for all the latest sales and news!
Thanks so much for joining us, and stopping by my page to take a look!
Andrea
Shared by Andrea Fisher on January 8, 2014 | Memory Date: January 8, 2014