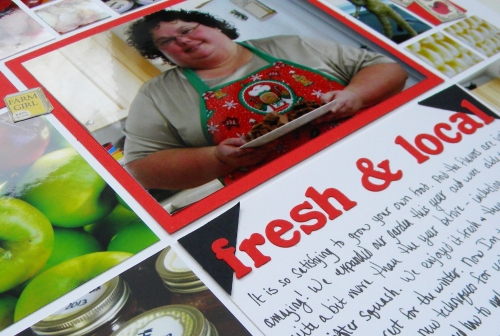 I was asked to introduce myself in my first post for the Mosaic Moments Design Team by sharing a few of my favorite things.
Favorite book: I love light mystery novels and historic fiction
Favorite subject to photograph: wildlife. I love to visit the zoo just to take pictures.
Favorite music: I like most kinds of music, but I especially love complex music that changes speed and includes a variety of instruments -- kind of like a rock symphony.
Favorite fashion item: This is totally not me. I like to look nice, but I'm most often found in sweats and tees.
Favorite place to visit: a scrapbook store
Favorite restaurant: Outback Steakhouse because they have a gluten-free menu that includes a chocolate brownie sundae -- a real treat when you cannot even flour!
Favorite magazine: Grit
Favorite color: Blue
Favorite hobby: When I am not paper crafting or taking photos, I love growing and cooking my own food. I am "into" the homesteading and locally grown food movements that are so popular now. I do not mind a bit of hard work and enjoy making things that I grew up buying in the grocery store.
During the past year, I have grown so much in this area. I planted vegetables I had never even tried before and learned how to grow them, cook with them and preserve them. I learned how to make applesauce, raspberry syrup, vegetable broth and apple-cider vinegar. I learned how to dry apples, herbs and tomatoes and how to freeze green beans, corn, tomatoes, butternut squash, zucchini and yellow squash -- all grown in our garden.
My cooking ability has improved during the past year as well. Yes, I could always follow a recipe, but now I am creating and cooking on my own, understanding what flavors go together and how to cook from scratch.
For Christmas, I asked for a food grinder and sausage stuffer attachments for my Kitchen-Aid mixer so I can learn to make my own sausages.
Granola and sauerkraut are also on the list of things I want to learn to make.
Naturally, since I am so obsessive about growing, preserving and cooking food, I wanted to make a page about it.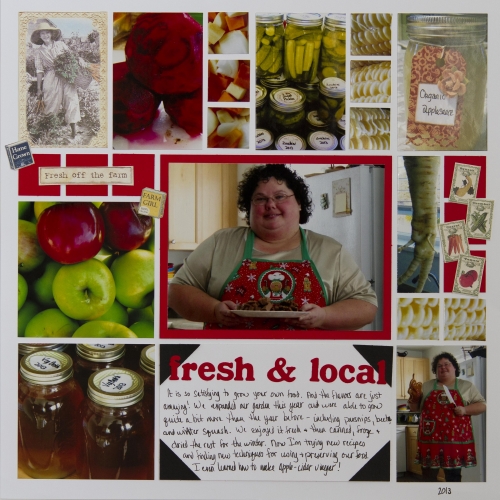 I used white grid paper because I didn't want any color to take away from the food.
I used Scarlet tiles to accent the page and serve as a photo mat.
I also included bits of vintage artwork from Crafty Secrets as accents.
For the journaling block, I used a white tile and a few black corner tiles. I cut the title from a piece of Scarlet tile so everything would match perfectly. Here's a close up of the journaling.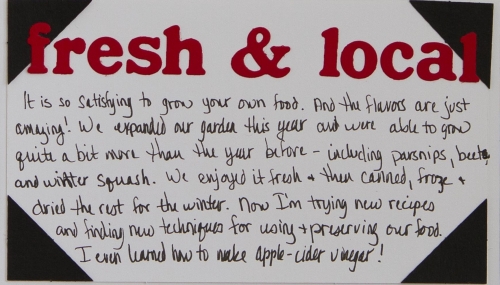 Shared by Candy Spiegel on January 7, 2014 | Memory Date: January 7, 2014