Challenge #17
POST WINDOW: September 1st - 7th.
Use Mosaic Moments Grid paper (you choose the color.)
Create a page that uses circles as part of the design.
Element options – Include at least two of the following elements:
Hi Everyone!!! Thanks for stopping by to see my circle challenge! I have to admit...I totally scrap-lifted Billi's work for this one. When she posted her "Cleverly disguised as sweet" page (http://www.journella.com/storyboard/fullview/id/10779/Kids-Stuff-Children-Cleverly-disguised-as-sweet), I could NOT stop looking at it! I knew one day I would try her technique, and this circle challenge was the perfect opportunity!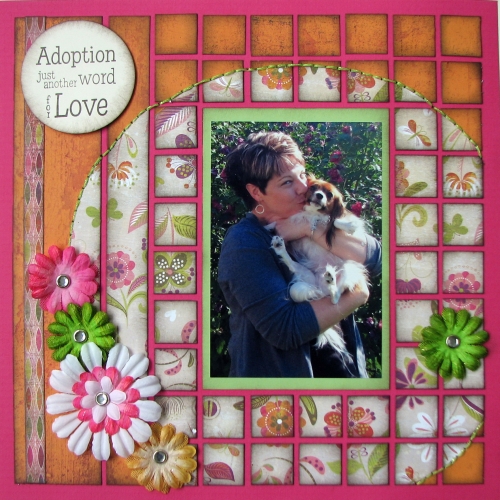 I started out with one very special picture: It's a photo of me holding my rescue dog, Ming (you may remember her from my "Mingerella" pages) one year from the day I adopted her--her GOTCHA DAY, August 15. I love the photo because, as a puppy mill dog, she was kept in a shed for her first 5 years with almost no human interaction. As a result, she does not like to be held, hugged or kissed. Too bad!! This momma gives her all the kisses and hugs she can stand anyway!!
Using Billi's instructions from her page, I used Raspberry Grid Paper www.tamipotter.com and some patterned paper from the Green at Heart Collection from Basic Grey. The colors worked well with the Raspberry and the flowers behind us in the photo. Next, I had some pretty fabric flowers from Imaginisce in just the right colors, so I added them to the page just as Billi did. Thankfully, our team captain, Andrea, sent out her reminder because I did not remember this challenge had element options!! I missed them completely! Luckily, though, I was still trying to figure out how to edge my circle so that it stood out more...I was going to use glitter, but when I saw Andrea's email, I knew I had to stitch around it. I whipped out my embroidery floss and found a pretty sparkly lime green that went perfecly with the paper and off I went! I'm not the best seamstress in the world, so don't look too closely!
This page ended up with a lot of dimension and texture, so I wanted to make sure you could see it...here's a different angle: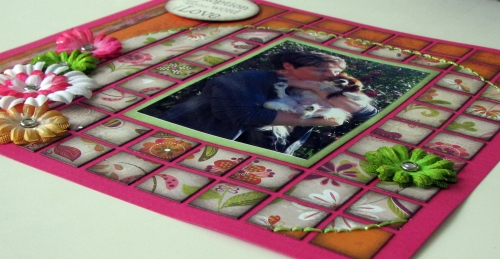 Then, one more thing...I wanted to use a stamp that I had in my collection as the journaling for the page. I pulled out my assortment of CircleTiles www.tamipotter.com and this one was just the right size for my stamp! I inked all edges--yes, ALL, with StazOn Timber Brown and attached the flowers with rhinestone brads from Stampin' Up!
I was very happy with the result! I hope you like it too!!
Shared by Heather Cartland on September 2, 2013 | Memory Date: September 2, 2013