My plan for this design challenge was to go to the Balloon Festival in New Jersey this past Sunday. Unfortunately, the weather forecast was for rain, thunder and lightening. Balloons don't do well in those weather conditions. This was very disappointing to say the least. So, my back-up plan was to go to our local airport about 5 miles from my home and photograph sky divers in action. The weather was gray early on and then the sun came out. It turned out to be a great plan. This challenge really had me worried. It was the panoramic element that concerned me. I created a two-page layout.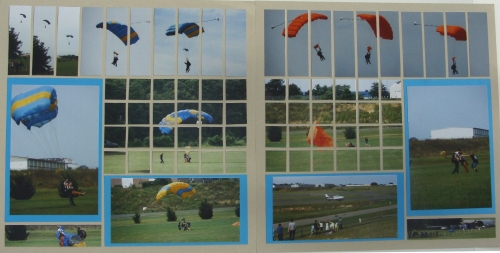 I drove over to the airport and noticed a crowd of people waiting to be taken up in the planes for their jump. I knew there would be ample opportunities to get great photos because there were over 20 people.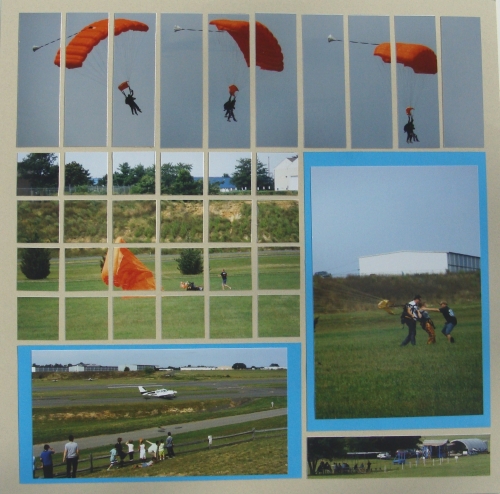 There are three spots to view the sky divers. The first is a platform just for that purpose. It overlooks the runway and the landing field for the jumpers to land. This is a very popular place for people to spend a Sunday afternoon. Therefore, it was not my first choice to take my photos. There were lots of little children and they were getting under foot and I didn't want to hurt anyone.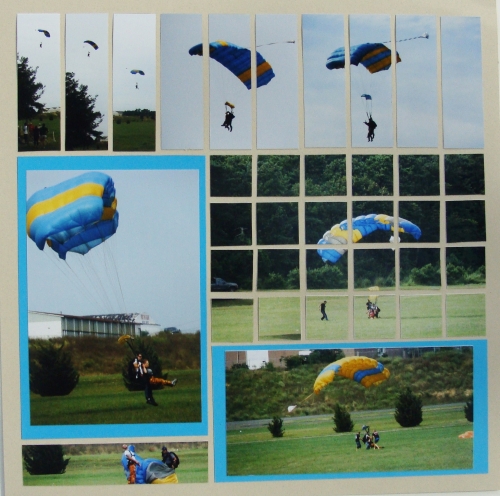 The second location was directly in front of where they land, but farther away. I was able to get some good shots at this location.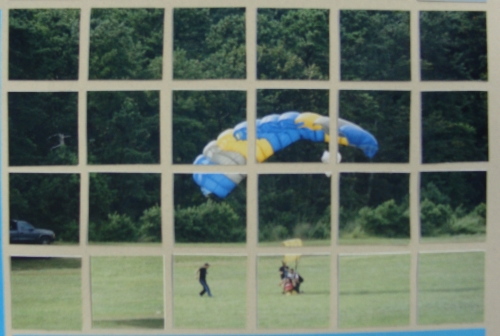 Then there is the landing site itself. Of course, this is roped off. Behind the ropes were the waiting jumpers, their family and friends. The angle was a bit difficult because I could not get in front of them as they landed, but I think I did okay. In my layout there is a photo of the crowd and the shack where they "suit-up".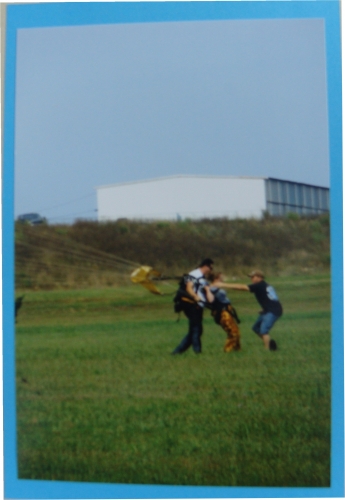 In about three hours I watched about 10 people parachuting in front of me. You can actually see the plane overhead if the weather is clear. So, once you hear and/or see the plane, it is about a minute or two when you see little black specks in the sky above you. Then all of a sudden you see the figures of the tandem divers. First and second timers have to go in tandem with a guide by law. It is really fun to hear them screaming with excitement on the way down. As they are about to land, two ground crew members run out to the field to help them land smoothly. From the field it looks as though they are "floating" up above for a while because they are directly above you. They flip and turn and swing from side to side before landing. When they land they are so excited and laughing almost in disbelief at what they have just done. It's awesome!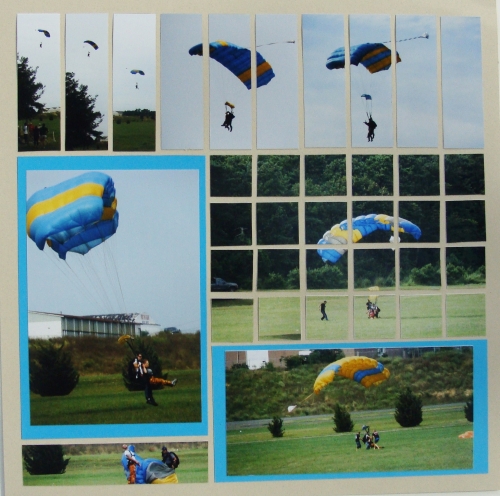 Elements used:
Sandstone Mosaic Moments grid paper (two sheets)
Page pattern 59 – a panoramic photo spread
Bright blue card stock for matting
Featuring panoramic photos

I did not use any brads or 1 or 2 inch punches. Everything was cut with the craft knife.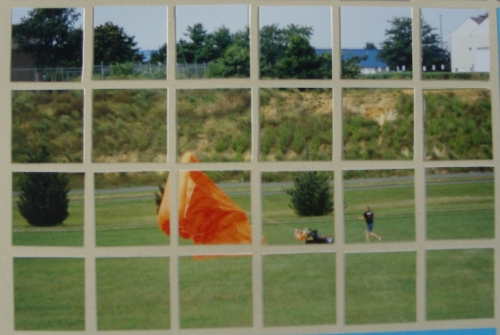 In my photos you can see the sequence of shots showing them falling and getting closer. The photo with the plane is showing a group taking off for their jump and the children watching. They were all waving and the jumpers were waving back.
I hope you enjoy the photos as much as I enjoyed watching the jumpers. If you have any local airports nearby, you should find out if they have sky divers and check it out one afternoon. It is a thrill.
Shared by Dale Hill on August 4, 2013 | Memory Date: August 4, 2013