Challenge #9 Forget Me Not Theme using periwinkle grid paper from snapncrop.com. The page pattern #58, elements string/doodles/cornerstones. Message to convey: What do want yourself and others to remember about you in this phase in your life.
I started this layout a couple of weekends ago at Table Rock Lake on a very rainy weekend. I had picked out my favorite sea themed paper from Creative Imaginations, Christine Adolph. Was not totally convinced that the sea theme would go with any of my photos taken so I cut out an alternative paper. I took a bunch of photos of the wildlife, lake, blooming trees, etc. Had the layout done by Sunday. Started a list of what I was doing in life in general. On Monday I rushed to Walgreens (again in the rain) after a long stinky day at work only to find my photos were not as good as I had envisioned. (See note about husband below) With the rain and clouds some were too dark, mildly blurry, or with a blue tint. The blue tint did not look good on my deer. So I pondered what to do next. Thought I had a neat layout without photos? Moving on to this past weekend. The title finally came to me "blessed".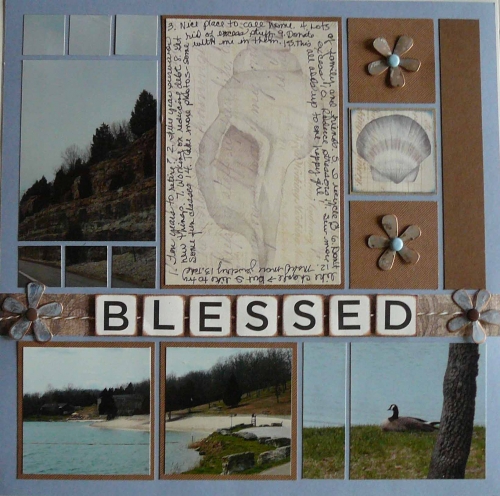 The journaling box was took me the longest...was going to type in "Word" and print on transparency. Decided that I would write around the shell as to not to cover up the shell. Very rarely do I use my own handwriting. I will show you here because it is hard to read without turning the paper around.
1. Ten years to retire? 2. Five years survivor 3. Nice place to call home 4. Lot of family and friends 5. I recycle 6. Don't like change - but like to try new things 7. Working on reducing debt 8. Get rid of excess 9. Donate excess 10. Reduce stressors 11. Sew more 12. Make more jewelry 13. Take some fun classes 14. Take more photos - some with me in them 15. This all adds up to one happy girl!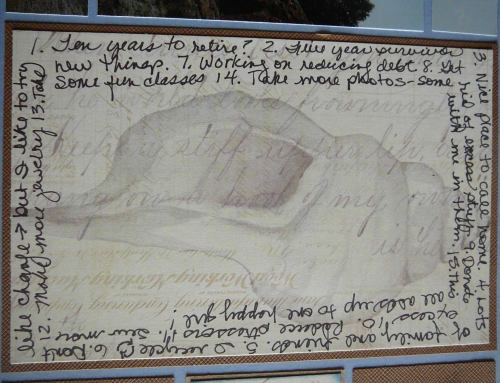 The flowers used were transparent with very little color so I painted the back with white paint and before dry all the way rubbed some paint off. Then inked the edges with metallic sharpie used brads for centers. Baker's twine used a an element requirement.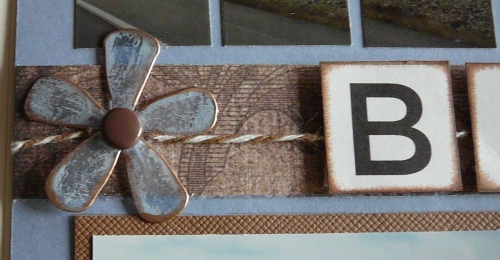 Supplies show here: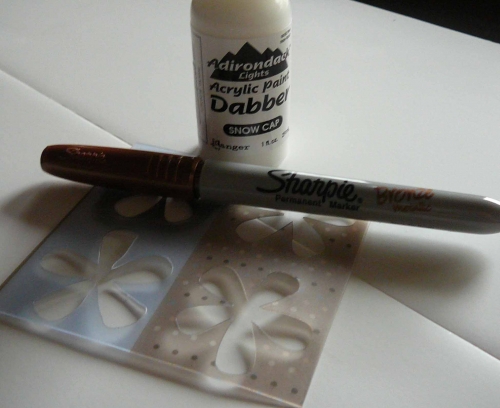 The 3 photos at the bottom of page 1 are of our subdivision lake beach and the goose is on common ground near our home.

Below is page 2. Took the bluff/highway pictures on page 1 and 2 on the way home from work. It is dark when I go to work everyday! The bottom photo was taken by accident. My husband was driving that rainy evening around Emerald Beach at Table Rock Lake. I was in my jammies taking photos. Clarification...my husband's idea of taking pictures is slowing the truck down just enough to have a split second to shoot the picture. He's usually moving forward before the shutter goes. Maybe that's why they weren't so good : / Besides the dog was in my lap most of the time. In all this excitement I realized that I took a picture of myself in the truck mirror. So I decided that picture was going on the layout good or bad.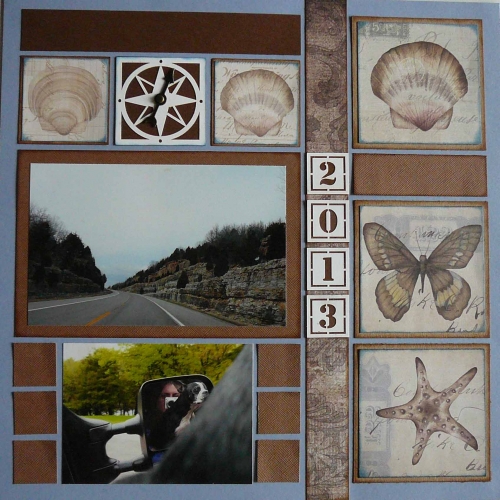 I really like the nature/nautical theme of the paper. Goes real well with the periwinkle grid paper. The cornerstones representing the year and compass to represent time. I added a game spinner from Tim Holtz for fun. The cornerstones and year from snapncrop.com.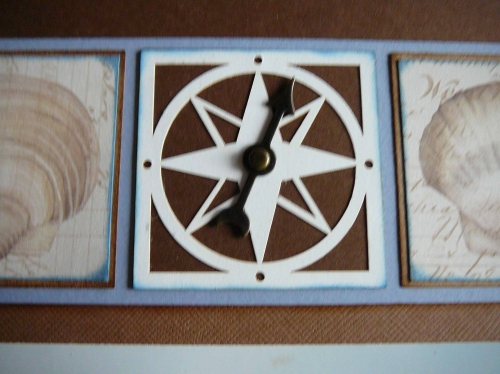 This is my May 2013, I am blessed : )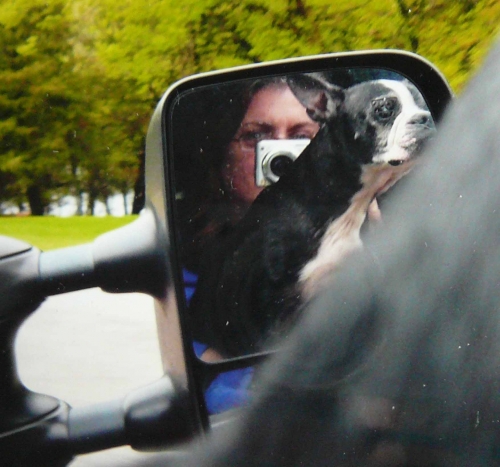 Thanks for checking out my pages!
Shared by Julie Oconnor on May 7, 2013 | Memory Date: May 6, 2013