Challenge #9 – May Feature Grid – PERIWINKLE
Use Mosaic Moments Periwinkle Grid paper and Page Pattern

#

58
THEME: FORGET – ME – NOT
Create a page that conveys a "forget-me-not" message: What do you want others (and yourself) to remember about you at this phase in your life?
Element options - please choose one or more of the following:
Hello everyone!! Welcome to phase 2 of the MMDT challenge series! When I received the second set of challenges, I was most excited to do this one. What do I want others to remember about me at this phase of my life? Let me tell you!
2012 was a terrible year. Absolutely terrible! It started out with a divorce from my husband who I had been with for close to 10 years. It ended amicably, but it was still pretty rough. With that, came the end of my relaxed work-from-home life that I had enjoyed for just as long. We had our own business, you see, so when the marriage ended, so did my job.
I had looked for employment for quite some time in my field, but to no avail in the area in which I lived. I wanted to stay in the area because we still owned the house together, he kept one of our dogs and I had all my friends here. So I took a job pulling weeds on a flower farm for $8/hr. Yup…right about minimum wage. It was a hot summer, one of the hottest I remembered, the farm's rooster hated me and would routinely chase me to my car, I was stung by angry bees and thought I would die of heatstroke just about every day I drove into work. It was miserable, but it paid the bills.
During this time, if you saw my artist challenge, you may recall that we lost our collie, Blue, to a brain aneurysm very unexpectedly that summer. Earlier in 2012, I lost my 15 year old papillon, Earl; he had a wonderful life, (I should also find a challenge to dedicate to him) but it was very hard to lose him as well.
Around Christmastime, things still weren't great. My job at the farm had ended for the season, and I found work as a temporary at a medical device company making a good living, but my contract was only for 6 weeks, so it ended with 2012. My lease was up in February of 2013, so I was panicking about what to do. I wanted to buy a house instead of continuing to rent, but I couldn't afford anything and without a job, I wasn't sure how I would make the rent either. I so badly didn't want to fail on my own.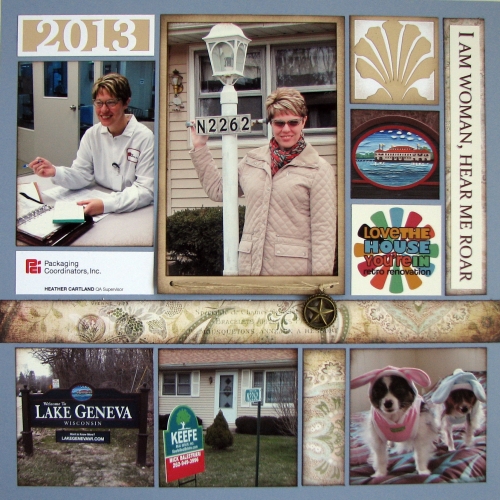 As you can see from my layout, 2013 took a turn for the better!! I went on my scrapbooking trip to MI with my friends in January, which was a wonderful time--much needed! And when we returned, I had two job interviews lined up. One of them offered me a position as a Quality Assurance Supervisor at a pharmaceutical packaging company, with a very nice salary and I took it! Since I was offered such a nice salary, I decided to look for a house in my most favorite place in the world, Lake Geneva, WI. I found a house that I loved right away and made an offer. At this posting, I am awaiting closing on June 15th! It's a 1964 ranch, and it is surrounded by Bigfoot Beach State Park, which my dogs will absolutely love! And I plan to go totally retro with it! I'm so excited!!
I'm not going to tell you too much about Lake Geneva and why I love it right now…I'm going to save that for a later challenge. But I will tell you that it's a very popular tourist city for folks of Chicago, so I feel like I'm on vacation all the time!
In terms of my layout, the grid paper is Periwinkle www.snapncrop.com and the page pattern is #58 from www.tamipotter.com. The patterned paper is BasicGrey from my stash inked with Timber Brown StazOn ink. I used a date and seashell cornerstone from www.snapncrop.com. I used hemp twine as my string because I thought it added a nautical touch and I used it to suspend a nautical compass charm from my main photo. That's me at the lamppost of my new house!! The top left photo is of me at my job with a piece of my business card under it.
So 2013 is going much better. I have a job, a new house in my favorite city, 2 dogs that I am able to keep spoiled for the rest of their lives, and I didn't fall apart after life tried to take me down. I feel great about myself at this phase of my life because I have been able to survive on my own. I am woman!
Shared by Heather Cartland on May 4, 2013 | Memory Date: May 4, 2013