Have you ever had a BIG oops? When I received the first 3 months of challenges I was so excited. I read the first two assignments for January and promply printed the assignments. I am a visual learner and have difficulty if it's not in print. Old school I guess. Well here comes the oops...my printer was low on colored ink (I was not aware of this). It printed everything in black leaving out the red numbers for the page patterns. Wow does that change everything!
So I feverishly went to work on assignment #3 at our annual January Pajama Crop. I've been waiting for about a year to find the perfect way to use pictures of Brayden. Thought I could pick page patterns? I used two patterns: page one is #19 checker inset border and page two is pattern #53 Inspired by Windmill. I was very pleased with the outcome.
After seeing last weeks emails I was left with some questions. I emailed Tami and her response had me perplexed. So I went back and reprinted the assignments...guess what the page pattern numbers were listed!
All makes sense now! Oops...now I need to start over! I will post the pages titled "All Boy" as an extra story and a good lesson learned :)
Thanks for listening and will post assignment #3 soon. Julie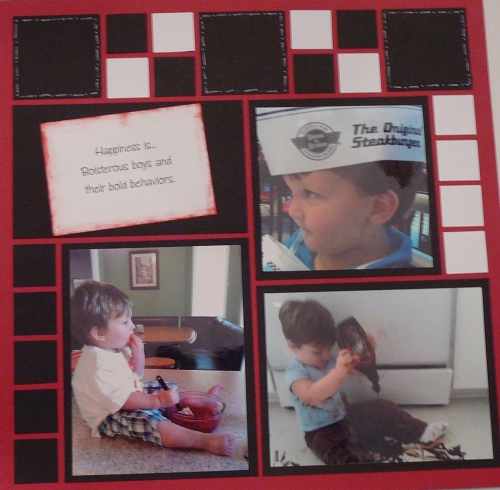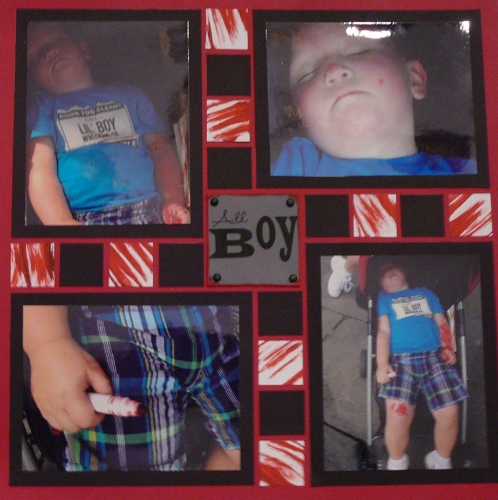 Shared by Julie Oconnor on February 3, 2013 | Memory Date: February 3, 2013