In fall 2011 our family took a trip to Disney World - our favorite vacation destination. On the last day of our trip we were shopping for last minute momentos. As I was making my decisions I kept coming back to a handbag. I didn't need a new purse. I wasn't really sure what I'd do with it; but, I just couldn't seem to walk away.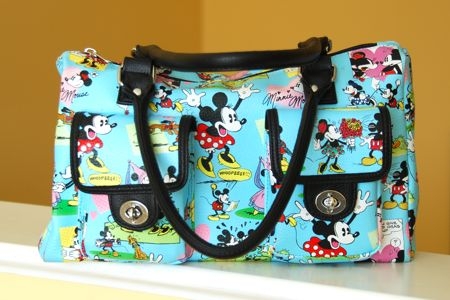 Because of the pattern on the purse each one was just a little different. I sorted through every one before finding my favorite - Minnie was positioned perfectly between the two pockets. :)
I didn't use my new purse right away. It has a big center pouch and I generally don't carry a lot of stuff with me but one sunny day I thought it would be nice to carry around a cheerful bag and it has become my favorite purse ever since.
I love the two pockets - for carrying a small camera and my phone but loving the pockets wasn't the biggest surprise - the surprise has been all the comments I get from others when I am carrying this purse. Perfect strangers stop to ask me where I got my purse. (They seem to look a little sad when I inform them I got it at Disney World - Vs., I suppose, the local department store.) I also hear a lot of comments like, "that is such a cute purse" or I LOVE your purse!"
Before my cheerful purse gets raggedy from wear I decided I should take a few photos - and why not create a page - Something that draws so much attention is worth remembering. :)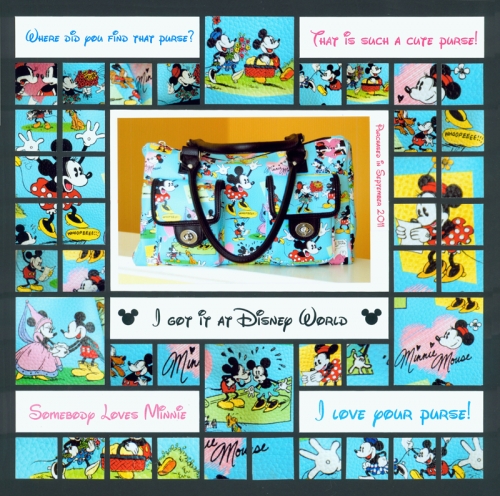 Supplies used to create page above: Mosaic Moments™ 12x12 Black Grid Paper, White Mosaic Moments™ PaperTiles, font:Walt Disney Script.
Shared by Tami Potter on January 7, 2013 | Memory Date: January 7, 2013