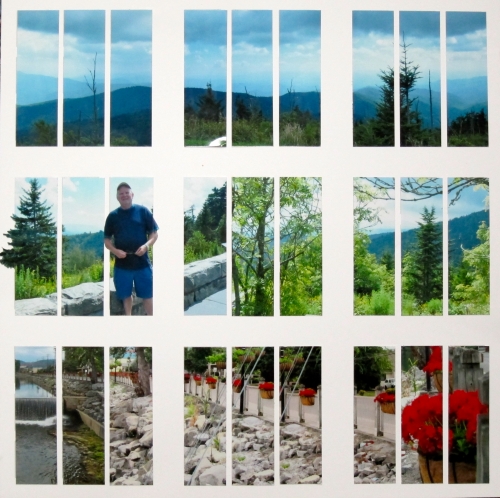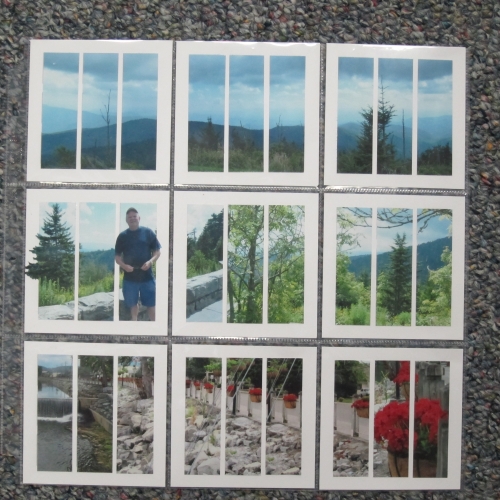 One of our challenges for November was to use at least one full sheet of RTC (ready-to-cut) grid paper and make mini pages that could be displayed in one of the We R Memory Keepers multi-pocket page protectors. We could choose 4 x 6 or 4 x 4 grids.
I had never used this type of grid paper, so I have thought about it quite often in the last two weeks and have procrastinated until the deadline is here (I nearly chickened out). However, I don't like to be a quitter, and I don't give up easily. Sooo, I have created a simple layout which turned out better than I expected.
I chose white grid paper (4 x 4 sections), because I wanted the color of the pictures to really stand out. I did each section in vertical strips. The bottom pics are up close shots, the center section were shots which were a little further away, and the top section pics were at a distance. Hopefully, you can see the depth created by this technique.
The element option I chose was to "silhouette" (see my husband's arms and the tree at the left of the center section).
After taking a photo of the entire page, I then cut it into 4 x 4 sections and inserted them into the pocket page protector (see second photo). I know this was a simplistic layout, but I like the way it looks for my first try. I'm sure the next one will be more creative, because I will be more comfortable with the process.
Shared by Linda Holmes on November 20, 2012 | Memory Date: November 20, 2012