Things I "Pollyanna" in my life:
1. The weather. When rain interrupts a day out. "The Farmers always need the rain."
2. Delayed schedules. Avoiding accidents on the road ahead of us."...that could of been us if we'd been on time..."
3. Unavoidable expenses (like car repairs) that make you change vacation plans, cut down on our school books, or fun, frivolous spending. Looking for minute vacation ideas, short, one day "events" to break up the routine, and plan "the next time...".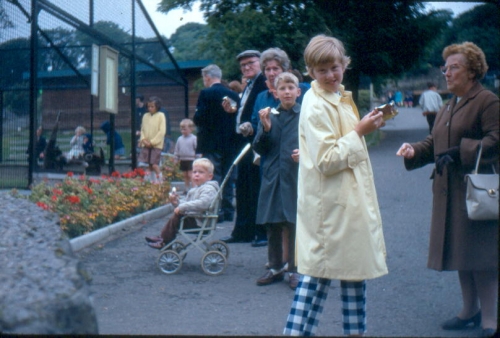 In junior high they nicknamed me Pollyanna because they thought I looked like Hayley Mills.
This is me with Auntie Mae (right) brothers David (in the stroller) and Danny with my Mum and Uncle Bob (To the left) Our Day at the Edinburgh Zoo (Scotland). age:11
Shared by Andrea Fisher on August 22, 2012 | Memory Date: August 21, 2012