Challenge #2 Featured Color 12x12 Grid-Navy
Pattern page MM-60
· July free download
· A List
· Doodles
Our second challenge with navy grid paper (July Sale!) had me considering several sets of photos with a nautical theme. We were also using paper tiles in red, white and blue; (This trio of colors are also now on Sale!) plus downloads in the same color palette so it was easy to lean in that direction.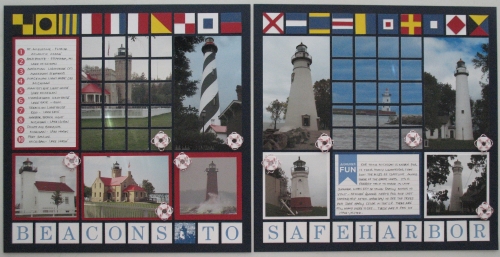 On a couple of different occasions we've made trips that have taken in several lighthouses. I don't know why they are such an attraction, but I do enjoy them. Their purpose is often overlooked. I loved the Gaither Vocal Band's song "I am the Lighthouse" back in the 80's, that relayed a story between a captain of a naval ship and a light house seaman. Both were requesting the other to adjust their course to avoid collision. The rank of the captain could not outweigh that of the immovable lighthouse! Then there is the story relayed by preacher DL Moody that hymn writer PP Bliss heard and inspired him to write "Let the Lower Lights be Burning" that particular sea disaster happened right here on our North Coast-Lake Erie, when the lighthouse lights had not been lit and a ship failed to navigate the rocky inner harbor channel and all hands were lost. Yes, there are many stories and analogies that the lighthouse plays a significant role. I guess I just like lighthouses. If you ever get the urge to do a lighthouse tour, like Michigan has, be sure to check them out on the internet first and make sure the lighthouse you are wanting to visit isn't a tall painted pole with a light on the end…the modern definition of "lighthouse" is a bit broad.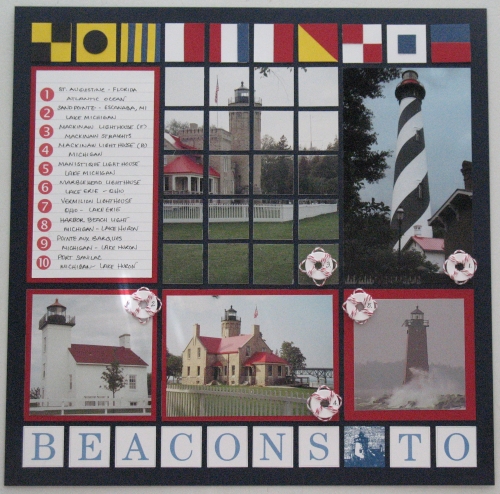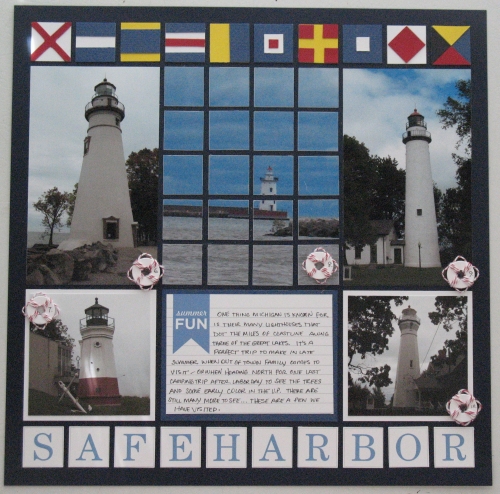 Of the ideas I included in this layout I used signal flags to spell out 'lighthouse' on the first page and on the second, I just put up some of the extra letters I didn't use before, and that weren't too complicated to make. The letters on page two are: V-Victor; J-Juliet; D-Delta; C-Charlie; K-Kilo; W-Whiskey; R-Romeo; P-Papa; F-Foxtrot; Z-Zulu. In addition to individual letters, each flag has a meaning that it conveys on ships to other ships, just as the Lighthouse is a signal to the ships to guide them into harbor.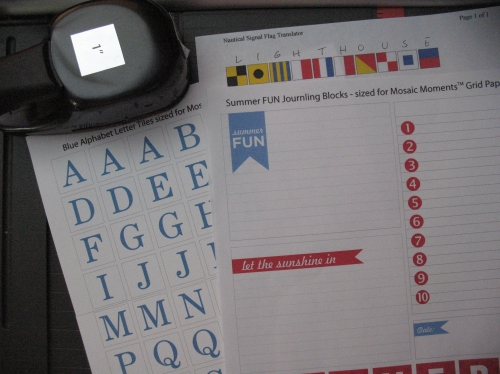 I used two of the free downloads available at www.snapncrop.com that are new. First the "Summer Fun" where I used the list and the journal block then the "Blue Alphabet Letters" for the title: "Beacons to Safe Harbor". They are printed on a light weight white cardstock.
the list: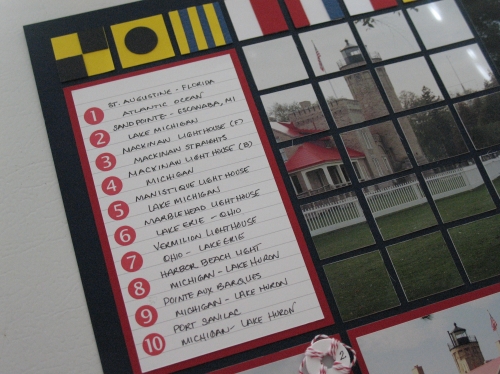 and the journaling block and letters from the downloads: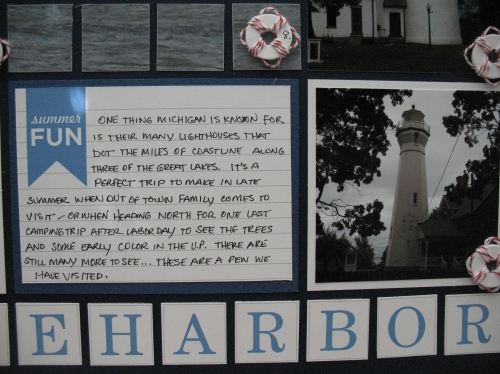 I created my own embellishments to label each lighthouse by making little life preservers. Small circles cut with Spellbinders and then the centers punched. Two rings are layered using foam dots and then wrapped with baker's twine from Martha Stewart to resemble the markings on a life preserver. Glue dots to mount on photos. Paper Tiles to mat in Red and White, and all the various flags that were pieced. I used an EK Success 1" square punch to punch out the letters from the download.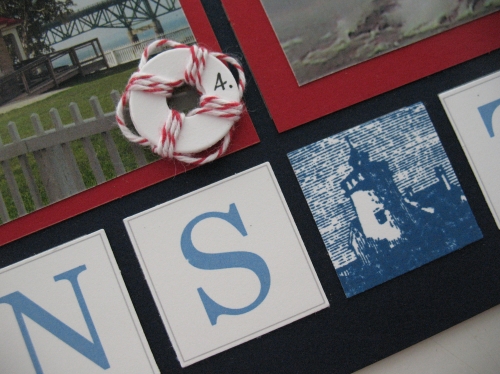 I have used a stamped image of a lighthouse to fill a space in on the title. (Impression Obsession B5228 Lighthouse)
I hope that if you are home bound by the heat this summer, you might shop at home for some of the products offered in the "Stay-vention sale" this month at www.snapncrop.com and pull out those photos needing to be scrapped and get busy putting your own fantastic pages together and then bring them back here to share with all of us...we'd love to see what you've done!
thanks for stopping by,
andrea
Shared by Andrea Fisher on July 19, 2012 | Memory Date: July 19, 2012