Raspberry Paper Challenge--Runnin' on Dunkin' Time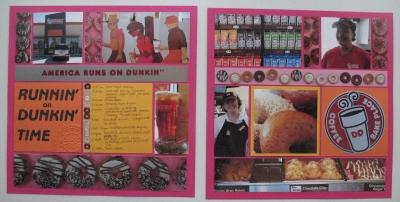 Using the same MM pattern page #10 but turning it around to the correct direction this time. I used one large square for the title, the clock from the steampunk gear embossing folder, with a circle of matching cardstock I cut into a circle with Spellbinders Classic Circles dies. My list for this page is the daily schedule for Dunkin'. I have cut donuts with Spellbinders Circles small, punched some of the centers out with a punch and then used glitters, crystal laquer and liquid pearls to decorate them. I placed foam tape between "donut" layers to give some depth. I also used my EK Success punch-donut chain to do a smaller chain on the schedule. This is actually my second layout I did for Libby, the first being when she made shift leader. I thought I'd do another now that she's an assistant manager! Thought I'd also post the first layout alongside the new MM Raspberry Grid paper.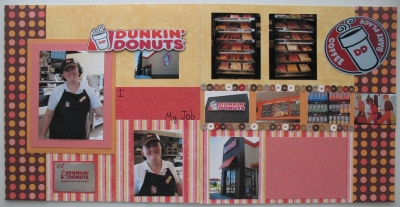 I used a few of the same photos, many new ones too. The day I went in to shoot more photos the inspectors were there, so it really wasn't the best thing to have some crazy lady snapping photos of signs and donuts and drinks...however, she still has her job!
If you are a fan of DD coffee...here's the inside scoop...the only place you can buy the real deal is at DD. The stuff you can buy in your grocery store is NOT the same as in Dunkin'.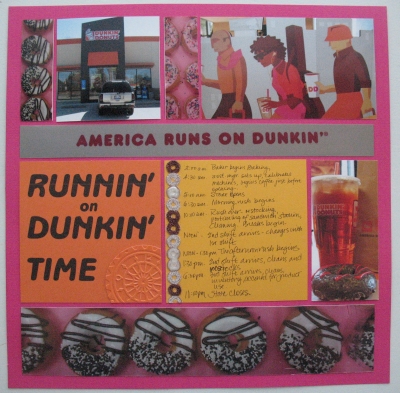 Here's my list:
·
2:00 am
Baker begins baking
·
4:30 am
Asst. mgr sets up, callibrates machines, begins coffee just before the opening
·
5:00 am
Store opens
·
6:30 am
Morning rush begins
·
10:00 am
Rush over-restocking, portioning of sandwich station, cleaning, breaks begin.
·
Noon
2nd shift arrives/change with 1st shift
·
noon-1:30 pm
Next rush begins
·
1:30 pm
2nd shift cleans, restocks
·
6:00 pm
3rd shift arrives, clean, inventory, account for product use.
·
10:00 pm
store closes
Now Libby is the early riser in the family! and she works hard, so proud of the work ethic she has.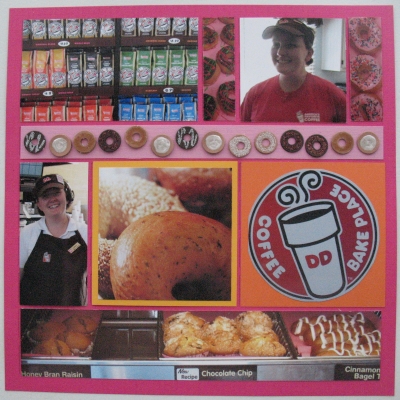 Shared by Andrea Fisher on April 25, 2012 | Memory Date: April 25, 2012