Greetings and welcome to a new Challenge!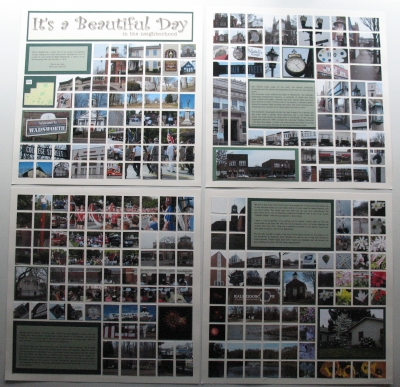 This challenge was: "It's a Beautiful Day in the Neighborhood"
Take photos of your community, and to
use the mosaic cut detail technique.
The county I live in is the perfect shape for a Mosaic Moments layout with it's step stair shape. So I wanted to work that in to the layout. Our town is divided into the older historic town center and then the uptown shopping and newer developments. I began making lists to decide what I wanted to include...what was in town that should be included?
parks
historic buildings
the quaint shop signs
lamps/lamp posts
parades
churches
city streets
landmarks
architecture
horse head hitching posts
So I headed out with the camera and a list of places/things to shoot. Once back and sorting the photos into categories I chose to focus on the historic town center. We've always lived within a few blocks of the Square where High Street turns to Main Street and College turns into Broad. These crossroads are where the many parades take place, the Summer Band Concerts are held, the sidewalk sales and the Christmas Candlelight Walk, in short, this is where so much in the community happens. It's where the many things that have meant the most to our family have all taken place.
I found I had taken more photos than I could use on a two page layout, but then I started to look at this not just as the challenge, but what did I want to remember about My Town? How do I make this a page for my family? So, what I've done on these pages is with that in mind. I have to admit the stories of the tornadoes in recent days flattening areas of nearby states did stick in my mind. What would be important places and events to remember about this place, if it was ever wiped off of the map?
Spring begins when Bidingers holds their Banana Split event in March (this coming weekend!), bring your own banana for a discount on your banana split, an annual event in our family!
Memorial Weekend the Veterans Parade to the cemetery begins the parade season.
The big event is the Blue Tip Parade in June that also kicks off a week long carnival at one of our parks, and we've got lots of parks!
After the band concert on the square on July 4th the town turns out at Memorial Park for the fireworks show
The burst of color from flowers that bloom in our yard each spring.
I used a combination of photo sizes some trimmed to cover several blocks, several photos sized to look like a panoramic one block high and several blocks wide, and others that gave my 1" square punch a work out for a single spot! I kept a few uncut photos and also included some journaling.
The title is done in Print Shop using Curlz MT font and memo fonts. I've used Ivory Mosaic Moments grid paper. I also used ivory and several shades of green cardstock for mats and journaling.
These are some of the things that I love about Our Town. Thanks for stopping by and taking a walk through it with me!
andrea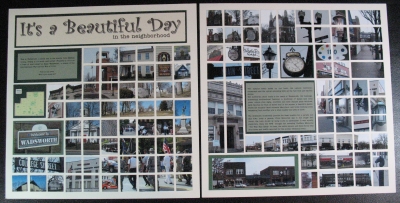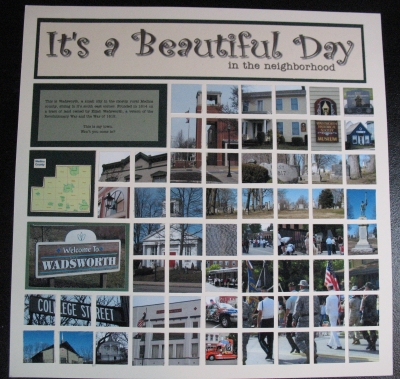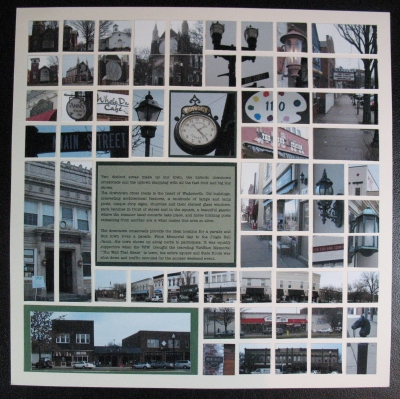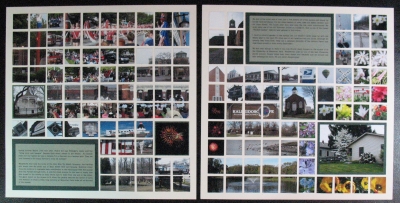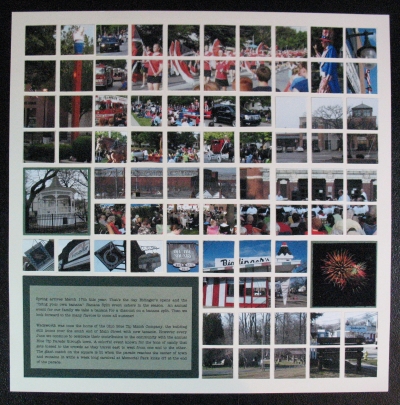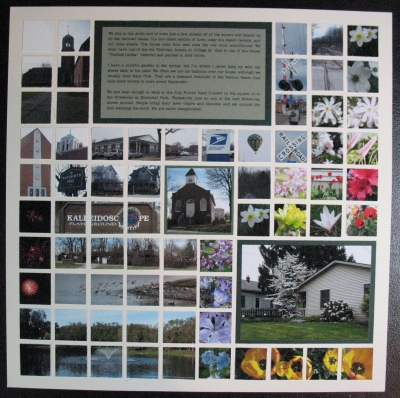 Shared by Andrea Fisher on March 12, 2012 | Memory Date: March 12, 2012