My mother always said it was important to share recipes. (She thought it was a shame for recipes to be lost.) When I was growing up, mom baked a lot of peanut butter cookies. This is her simple recipe:
Ruth's Peanut Butter Cookies
Ingredients:
1 Cup butter
1 Cup peanut butter
1 Cup white sugar
1 Cup brown sugar
2 eggs
1 teaspoon vanilla
1 teaspoon salt
1 teaspoon baking soda
2 cups flour (add 1/2 to 1 cup extra flour if needed so dough will not be sticky.)
Mix ingredients
Drop golf ball sized portions of dough onto cookie sheet. Double cross the top with a fork (press the fork down on top of the cookies) and bake at 350 degrees for 12 minutes.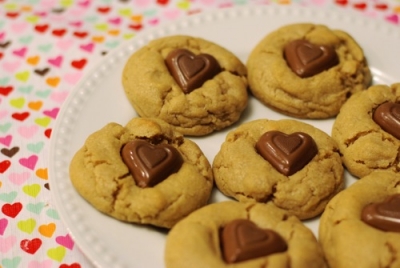 My alteration for Valentines Day (pictured above): I skipped the fork step and I pressed the chocolate hearts into the cookies immediately after taking them out of the oven.
Shared by Tami Potter on March 11, 2012 | Memory Date: March 10, 2012