very morning when I rise, the first thing I notice was the weak burst of dim sunlight streaks hit our curtains, leaving few trails of dark shadows of the trees with dancing branches and bristling leaves that has all forms and patterns of the many shapes possibly.
Then came the orchestrated sounds of many birds starting to sing the songs of the early spring and we have just entered the warm month of Febuary.
And so at last, spring has come forth and the while snow was long forgotten with memories of last winter fading within time of this season. Odds are these moment when Life has started to bloom well into this time, but at home it starts with the darkness that seems to enshroud our place with brokenness and sadness.
The last event was so overwhelming that I felt everything overtook every part of me and every bit of my strength and my senses.
I felt down within this grief and my whole world fell apart in just a second.
Faith has been my place of solace of where I indeed often enough finding my strength. I know I have always been that strong, but at this time my faith has been tested to its very core.
I do not feel as if God abandons me. I feel He is ALWAYS been with me no matter where I am and no matter what I do ... I know to well enough that the LORD has ALWAYS been here with me.
I do not deny that I am consumed with my pain which horribly rip my heart off from its root mercilessly along with the love that I kept within my breast as if my own soul betrays me and I am left with dark emotion wrecked me with the deepest agony ever.
Yes, I know that I am well tested to the very core of my spirit and Jesus sees that I bleed, but somehow there is this strange kind of power lifting me up all these time so I stay strong as I am now. Oh, no, nothing like that.
This is my walk to faith ... my destiny - fate written. When I was a child, my family took their little child with them to the farms which located in the mid of the jungle, far away from civilization.
I remembered my auntie brought her newborn whom she put inside a basket which was hanging under one of the trees, hiding her child safely from the blazing sun. One to think of such act is also to teach the babe to listen to the music of the branches and to learn from the activities of the birds. Though the vision of God each attains maybe different, their method of spiritual development is the same.
In this time when everything is heavy and hard for me I know I am taught to be humble as best I can. Even if I am prepared by Him, I know part of me want my weakness to stay as to remind me of where I came from, where it all starts, where the reasons come, where I had my Jesus, where I have my memories and how I come to be me now.
I miss my Amanda terribly, yes. I wonder where she is now if she knows I am not there with her at all anymore; wonder if the angels really taking care of her just I do; wondering if she misses me at all; wondering ... if she still remember me if she sees me in the future ... I have too many question on this, yes, and who's not?
Now, my day started from now on ... with her ... without her ...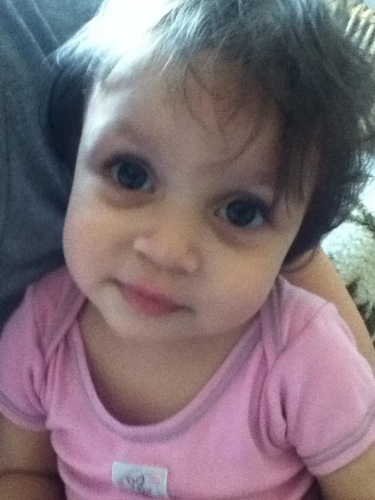 Sherrie de Valeria
Shared by Sherriedevaleria on February 6, 2014 | Memory Date: February 6, 2014