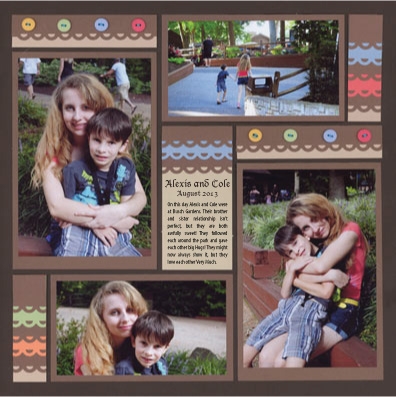 Here is my page for the Fairy Tale inspired Challenge! I think this is one of my favorite pages so far in 2014. Hopefully you can guess right away that I was inspired by Hansel and Gretel. This is a classic Grimm's Fairy Tale and I was very inspired by the relationship between the siblings and by the witches Gingerbread House.
These pictures show my brother and sister and I love the photos of them together. They are both very sweet just like (I imagine) the gingerbread house would be. I love the photo of them holding hands and going on a walk together. This reminds me of how Hansel and Gretel stayed close together as they walked through the forest.

While looking at these photos of course the story of Hansel and Gretel came to mind! I immediately wanted to create a page decorated like the Witches house in the story. I chose Cocoa 12x12 Grid paper since it is a nice dark brown and added Carob Cream Paper Tiles to mat my photographs. The Carob Cream Color seems pretty similar to the color of gingerbread so I think it was a fabulous choice for this page.
I love the embellishments on this page. I have a border punch that looks similar to the icing loops you would add on a ginger bread house. I mostly used Carob Cream Paper, plus a few other colors and stacked them on top of Almond Cream Paper Tiles. The layering of the different colors of paper makes the page look like the roof of the house.
Last, I sewed buttons onto a couple of the borders. The buttons are supposed to look like candy. Buttons are an adorable embellishment for Mosaic Moments pages, and I think they fit perfectly with this page.
I hope this page inspires you to create a Fairy Tale inspired page. There are so many stories to choose from, and this is a great opportunity to create a very cute Page. Remember the deadline is February 16th and I can't to see what everyone does!

Shared by Paije Rodriguez on February 4, 2014 | Memory Date: February 4, 2014