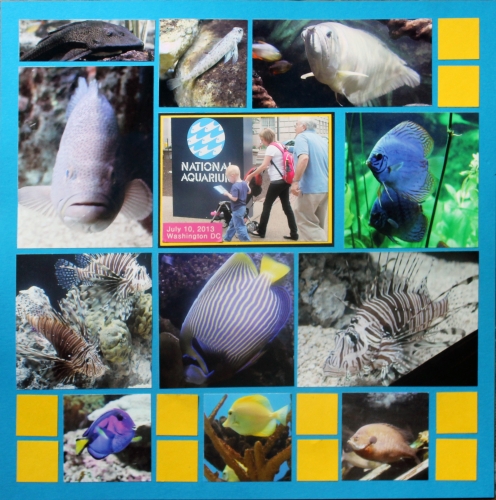 Is my subject fish, aquatics, aquariums or colors? I think it might be aquatic colors. I could have added some stamped aquatics that I colored with Copics, but I was having too much fun with the real deal. It so happens that our planned zoo trip with the grandkids turned into a visit to the National Aquarium in Washington, DC. We were better equipped to handle moderated air conditioning than the heat and humidity the day promised to visit upon us.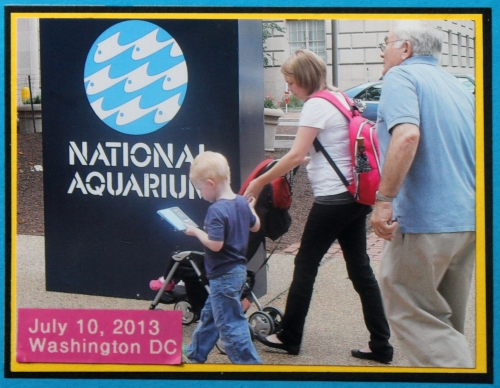 The night before our excursion, I made a mini album for each grandchild to document the trip. Four-year-old Brayden is looking while he walks into the aquarium. I used my Brother Label Maker to note the date and location. We met our daughter-in-law with grandchildren at the Aquarium around 1:30 PM. You can see that Morgan, 2, is in the stroller. Her pink shoes are rather distinctive are the only thing visible. She too is looking at her pink mini-album.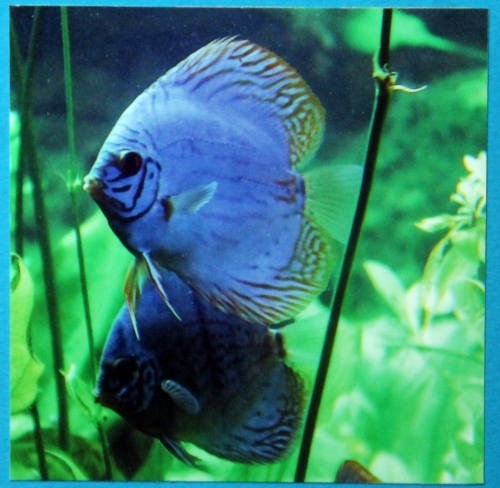 I called these two "Blues Brothers" – a fantastic contrast to the greenery surrounding them.Though we got there in time to see the shark feeding, we decided that too many people were crowded around the glass to see much, so we started poking around on our own. I got some great shots of the residents in the aquariums, but chose to focus on fish for this particular series page. I was enraptured by color, form and texture.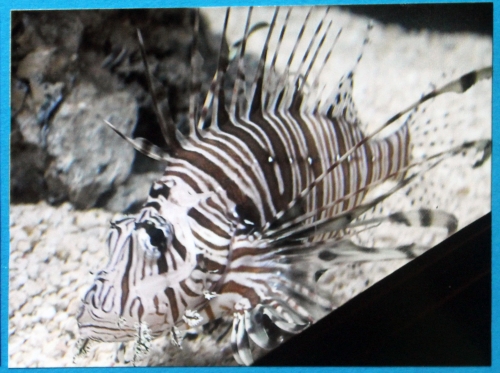 I call this fellow "Sad Sack." He reminds me of Eeyore of Winnie the Pooh fame. You can almost hear him say, "After all, one can't complain. I have my friends. Somebody spoke to me only yesterday. . ." Of the three pictures I took of this species, i thought this sole fellow looked the most Eeyoree of them all.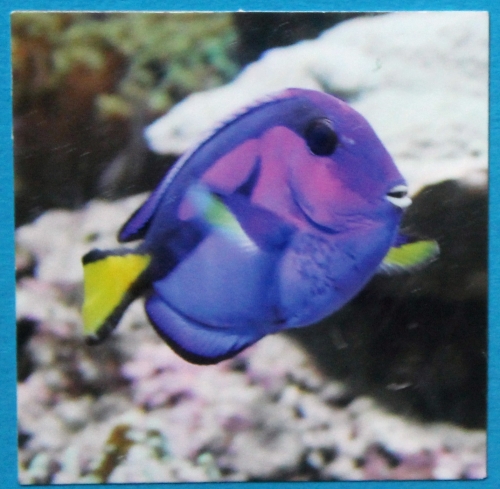 I call her Shades of Purple. Of course, I don't know if she's a "her" or not, but I choose to touch the feminine side of this sweet aquatic creature. In real life, her lips are as yellow as her tail. I could touch it up with my Copics, but I don't think I will.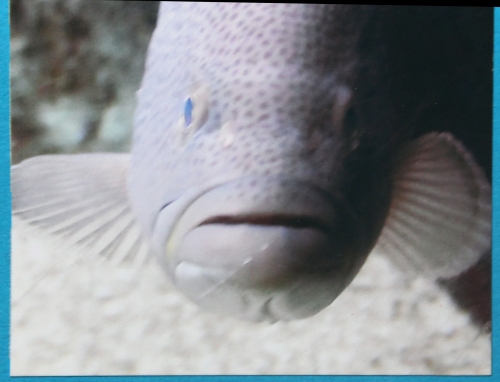 I call this one, "Up Close and Personal" or perhaps "In Yo' Face!" He appeared to stare at me so long that I had to snap the shot . . . or maybe he was just staring at the camera!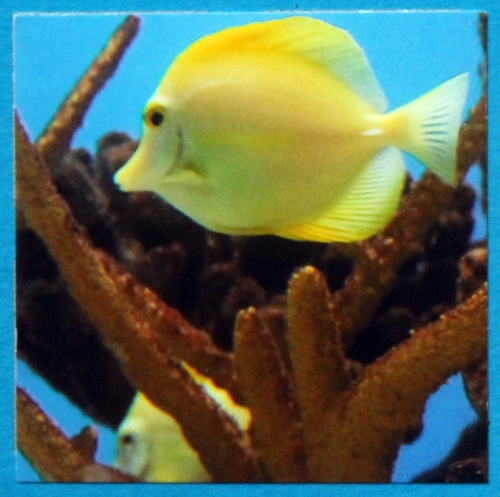 This one I simply named "Yellow Fish". I love the curvature of his snout and how the background almost matches my Bahama Blue grid paper perfectly. Maybe my collection/series is Aquatic colors. Regardless, the high point of the day was spending time with our first outing with the grandchildren – all three of them. Next summer, perhaps we'll visit the larger Baltimore Aquarium!
Shared by Diane Cook on July 16, 2013 | Memory Date: July 16, 2013