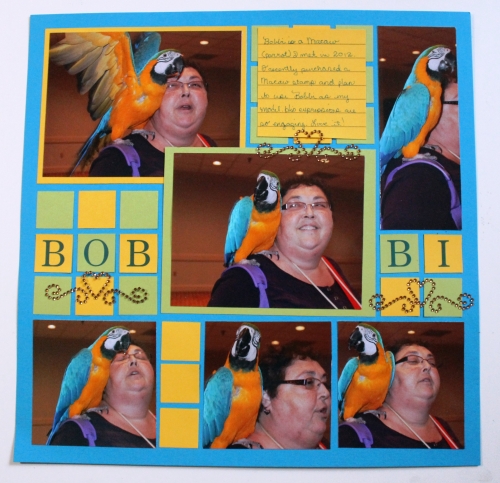 One thing I love about the Mosaic Moments technique is its simplicity and the ability to accommodate so many design options. This is our seventh design team challenge and I chose Page Pattern 64. Because of an overly busy schedule, I didn't get to this project until the evening of March 8th, the day (evening) after we returned from Stamp, Scrap and Art Tour in Ocean City, MD. One of the convention organizers (Kathy) has this gorgeous Macaw parrot named Bobbi. Last year I got stunning photos of her with her precious pet. What better way to show off our Bahama paper than to use an exotic bird whose coloring seems to be the inspiration for this color set?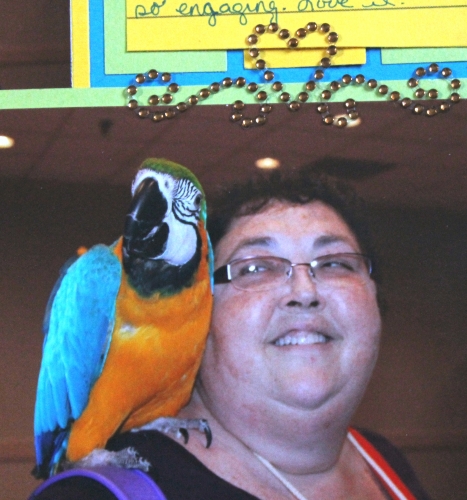 I even managed to incorporate all the optional elements this time:
I downloaded the letters and journaling element from Snapcrop.
I wrote a note on the journaling element about my intentions to use Bobbi as my coloring model for a Macaw stamp that I purchased.
I used crystal heart stickers to accent the story.
I used The Paper Cut Sour Apple and Lemon Drop paper for my mats. I love it when a plan comes together. I'm still having some photo issues which I hope will be solved once I get some clear space on my floor. But that's a story for another time.
Shared by Diane Cook on April 9, 2013 | Memory Date: April 9, 2013