Morgan Loves to Scrapbook – MMDT #5
Grandchildren area perfect subjects for just about any layout – and mine are no exception. Besides being practically perfect, I learned that GBG (Grandbaby Girl) Morgan is exceptionally bright. How many two days shy of two year olds are scrapbooking? At this rate, she'll be doing MMs before she's three!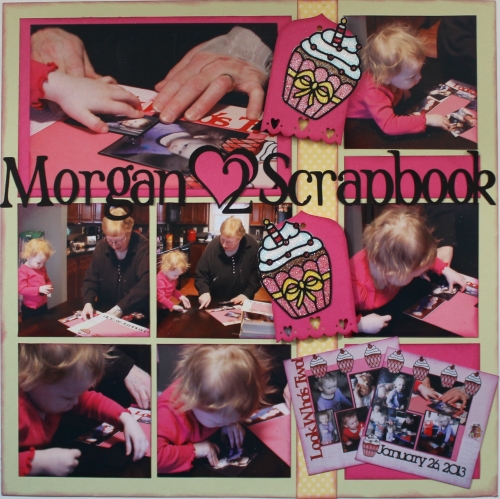 I discovered Morgan's gift right after her family birthday party. I took my portable photo printer with me to her house in Montclair so I could print her celebration pictures and put them on her scrapbook pages. She came toddling into the dining room, saw what I was doing and climbed up on the chair for a closer look.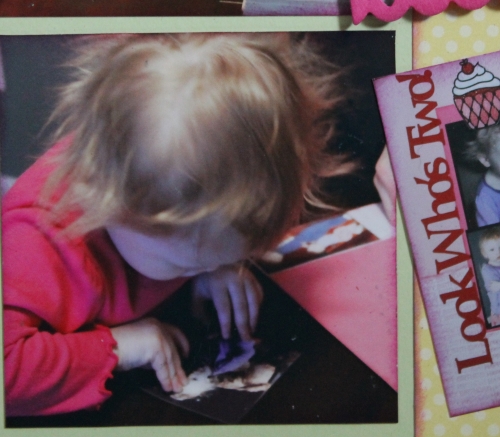 Before long, she was gluing and positioning pictures on the pages. Her mom got so excited that she grabbed Grandma's camera and started shooting pictures; lots of pictures. How perfect is that for a Mosaic layout?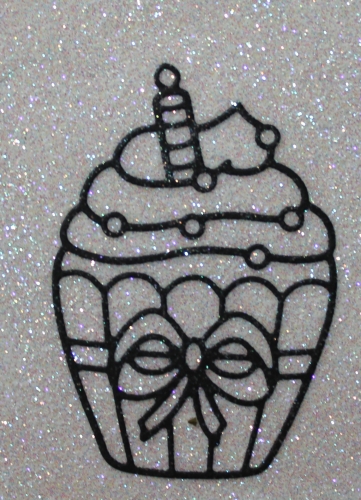 One of the neatest pieces of her page was the Elizabeth Craft Designs die cut cupcakes. Her page featured cupcakes with cherries; this one has two cupcakes with one candle each – for her second birthday, of course. This is a great technique that involves double-backed adhesive, glitter, and Copic markers. Once the glitter is in place, then you color the glitter with your marker.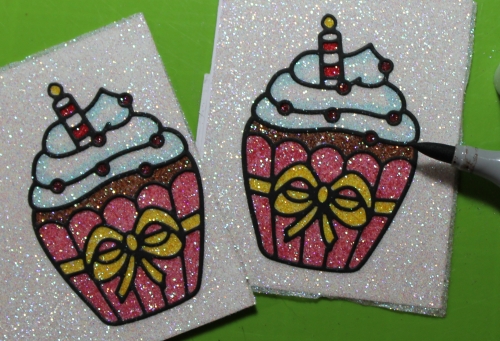 You want to "pounce" the color on rather than scrub. I decided on a yellow ribbon because my printed paper is Close To My Heart yellow dotted ribbon. After I colored them, I cut them out with micro-tipped scissors and adhered them to two pink tags but not before I chalked them, the edges of my MM Bamboo paper and all my photos with Memento Rose Bud stamping ink.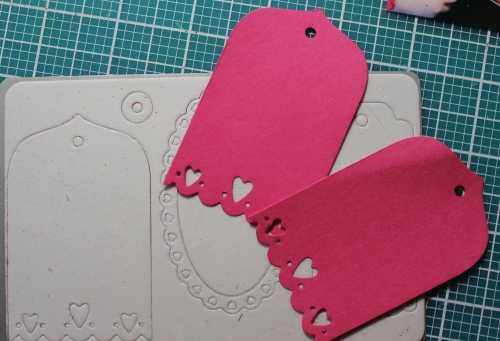 I cut my tags on my E-Bosser using The Paper Cup Razzleberry cardstock. The tags came from a Cheery Lane die.

My favorite Cricut cartridge has to be Plantin Schoolbook. I love the letters and symbols. I cut my title using the Tall Ball key at 1 ½" high. I cut my pink heart at 1 ¼". I used my EK Success centering ruler to line everything up and to place it on my page.

The neatest thing is that "two" seems to play an integral role on this page – two cupcakes, "Look Who's Two" on the original layout and the number "2" in the MM title. I didn't plan it that way, but it works!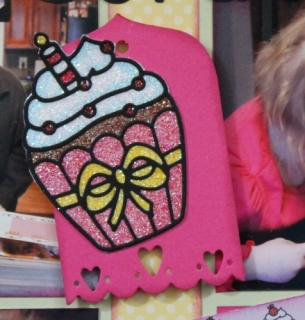 Once I had the photos and title in place, the last thing to do was add my cupcake tags. I used foam dots to pop them on the page which adds texture and depth.
All in all, it was a fun project to do.
Shared by Diane Cook on March 7, 2013 | Memory Date: March 7, 2013