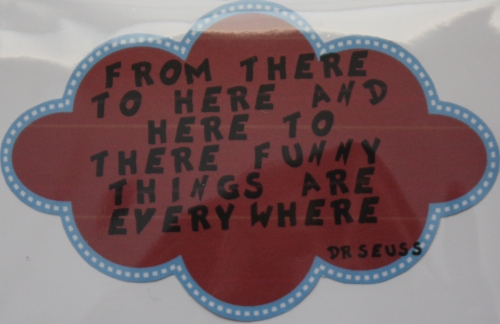 Hi All!
Thank you for stopping by to see my work. For the second challenge, we had to use Dr. Seuss as inspiration and use 1" as a design element. I was soo excited when I first read this challenge so many ideas ran through my mind. I love Dr. Seuss and the way he used words, reading and rhymes and there was always a lesson involved! To me, he was genius. So, I began with my pictures and all of my goodies and boom-nothing! It just got overwhelming for me. So, I had to step away, regroup, clear my mind and come at it again.
So, after a few days, a second set of pictures, seasons 1-7 of Matlock and a fresh set of ideas-I went to work!!!!
I used bahama blue grid paper, red and red/white polka dot accent paper. I also used cut outs from Dr. Seuss scrapbooking paper that I lucked up and found! I thought these colors went well with the colors from the story.

I had to work through having so many pictures for 1 outing and getting most of them onto a page. So I began by figuring out how I was going to get them onto my layout.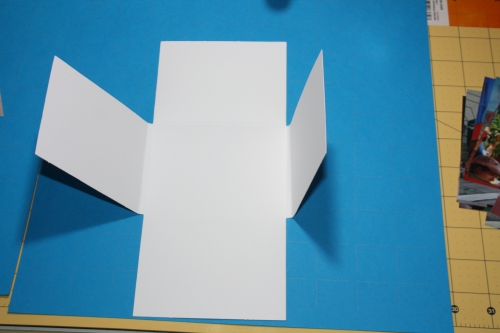 I used this photo fold out (I bought from a Scrapbooking Convention) that I taped down to the page and added 4 pictures and some journaling.
This allowed me to place more pictures from the same event on the page.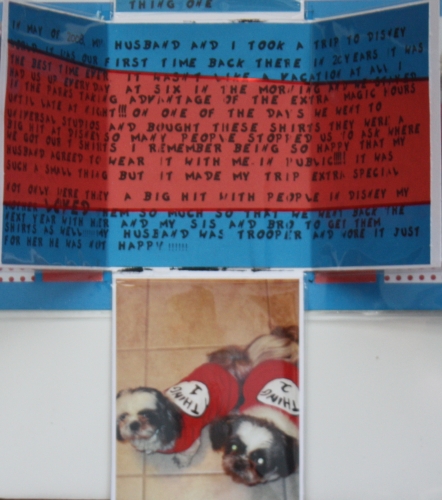 Here is the left side of the layout: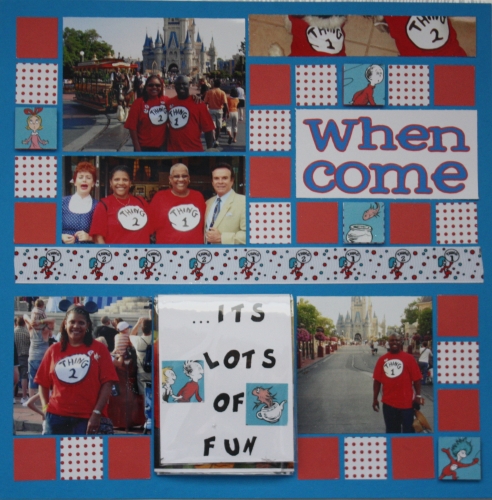 I cut the page protector using an exacto knife, cutting mat and ruler.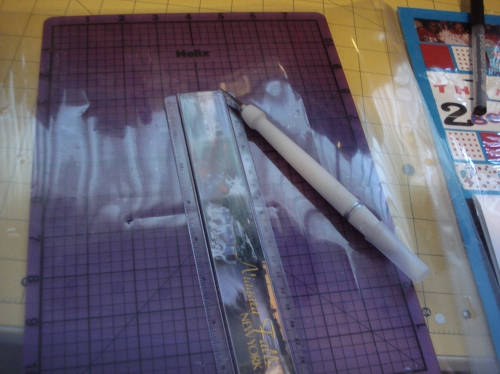 to be able to open the fold out and see all of the pictures and journaling inside: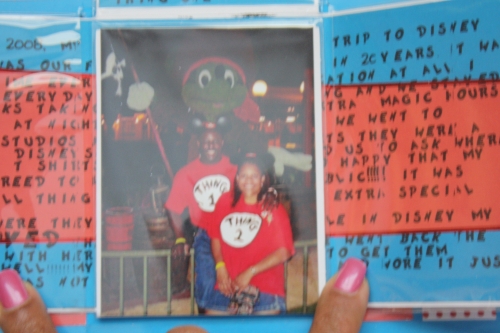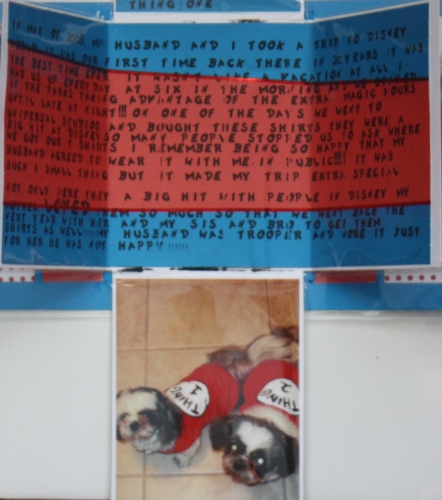 I journaled across the middle complete with Dr. Seuss font!!! and the picture of the dogs are on the other side of the flap where the picture of my husband and I are (pictured above). All of the flaps fold toward the center and magnets (hidden under the photos) holds it all together.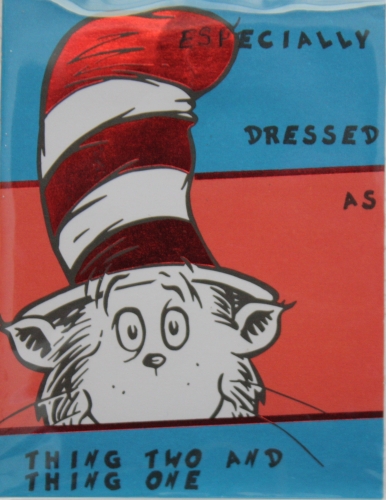 The title of the layout is: When Things Come Together... It's a lot of fun Especially dressed as thing 2 and Thing 1! You have to open the flap the see "especially dressed as thing 2nd ans thing 1".
Here is the right side of the layout: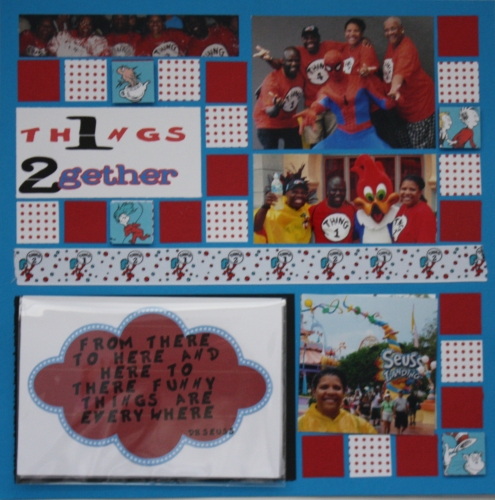 So here is the whole layout together. I hope you enjoy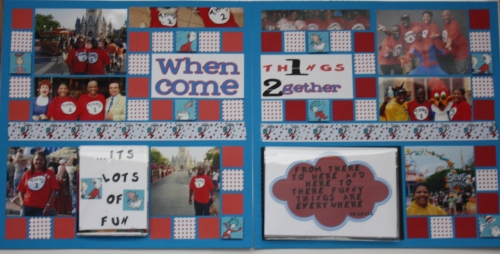 On the right side under the quote from Dr. Seuss are 8 additional photos!!!
Another way I was able to get one more picture on the page is, I cut 2 pictures to the same size (3x3), I taped 1 picture to the page: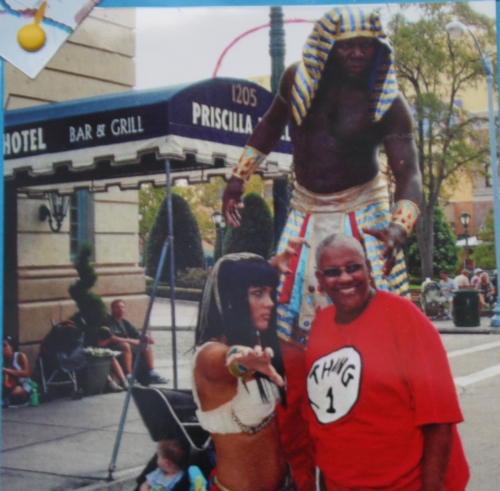 Up in the left corner I used a Crop-A-Dile to make a hole in the same place on both pictures and then I used a brad to hold it in place, but still able to move. I cut that same size in the page protector to be able to move the top picture to see the photo underneath.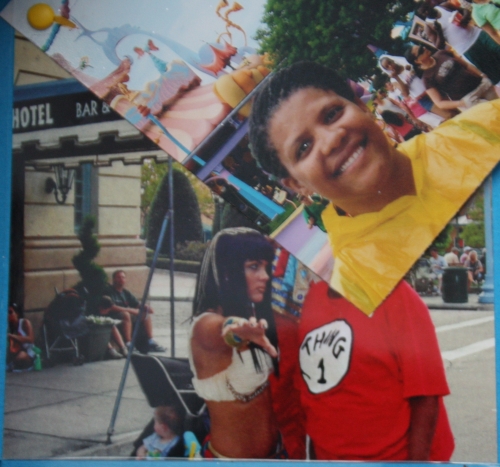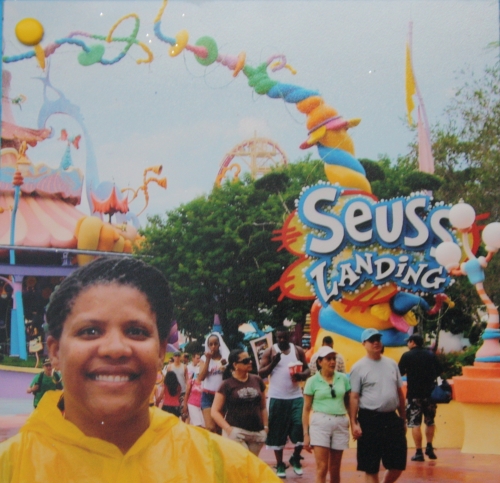 If you made it here-I appreciate you taking your time to look at and read about my work. I'm normally not this lengthy, (I'm a hit it and quit it gal) but I wanted to show you the fun, whimsical ways (I think) to get more photos on a page.
Just because you are still with me, here is the full layout again!!!!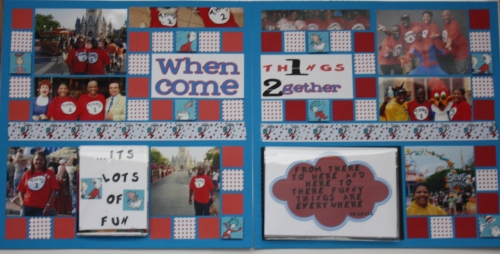 Thank you again for stopping by, hopefully, it wasn't too painful for you!!!!
Have a great day! :)
Shann

Shared by Shannon Nixson on January 20, 2013 | Memory Date: January 20, 2013