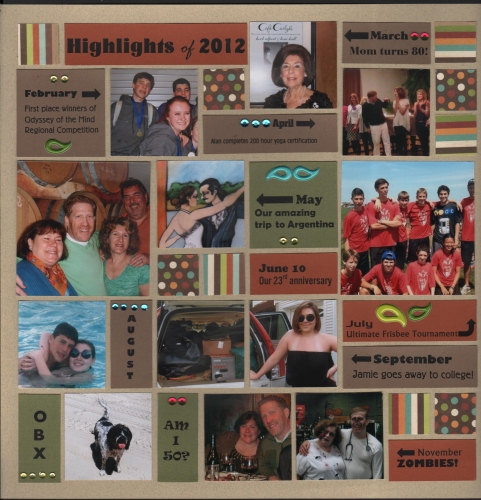 Once again, I apologize for posting late. This month in the retail wine & liquor business is so crazy and I wanted to spend some time on this final challenge. Thankfully I thought in advance to print photos I was planning to use so I was able to scrap at a moments notice!
There wasn't necessary one highlight for every month so I chose the main events of the year to use on this page. Mom's 80th birthday, my 50th birthday, my daughter going off to college, my husband challenging himself to complete a 200 hour yoga certification program, my son's success with Odyssey of the Mind and our fabulous trip to Argentina to name a few. I chose to use neutral colors on the straw grid paper because I wanted to fill in with the stripe and polka dot 1 x 1 squares from the simple stories 6 x 6 (new to Tami's inventory). I then embellished with a few small rhinestones and puffy teardrop shapes because the page needed a little "bling"!

Wow! A whole year has gone by since we started on this fantastic journey. Thanks, Tami, for choosing me to be on your design team and for inspiring me with mosaic scrapbooking. Thanks, also, for understanding when I posted my pages late due to other responsibilities.
Thanks to my fellow design team members! I learned so much from you and was challenged to expand my creativity by your awesome pages.
I will miss the monthly thought process and the anticipation of what will appear from all of you on Journella but I look forward to the postings of the new design team. And, of course, I will continue to post my scrapbook pages as I do them.

Shared by Beth Glass on December 26, 2012 | Memory Date: December 26, 2012