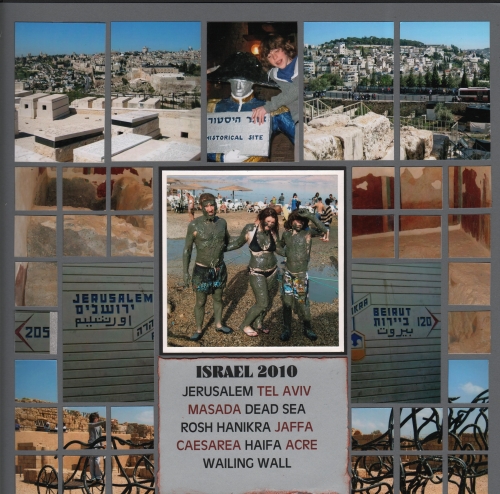 December's first challenge was to use pattern #26 and pewter paper. I chose to look back in my picture file for photos that would work well with these requirements.
This layout shows our trip to Israel in 2010. The center photo (Dead Sea) is the focal point of the page and I matted it in both black and white for a little more attention. The 2x3 photos on either side of the center photo was the perfect place to show the photo taken at Rosh Hanikra showing Jerusalem to the left and Beirut to the right. Lots of security at that gate but I snuck in a quick photo!
The 1 inch squares surrounding are the remains of various rooms at Masada. Other photos I have show the original mosaics still intact also at Masada. Mosaics!! How excited was I to see that!
The top shows city views and a candid shot of my son playing around with a statue and the bottom also shows my son "steering" the cast iron statue of a chariot in one of the very first outdoor theater or stadiums where many historical events took place.
Finally the journaling box highlights the major attractions we visited. I used 2 different color inks to separate the titles, tore the 4x3 paper and inked the edges.
I hope to go back to Israel to visit the many places we did not have time for. Of course I will scrapbook them and share them on Journella!

Shared by Beth Glass on December 5, 2012 | Memory Date: December 5, 2012