For this challenge I decided to rework an idea I had in the planning stages so it would fit with the challenge requirements. In the end I have to say I am even more pleased how this smaller version worked out. (actually that 12"x 48" wall art was probably too much!) Playing with the bold and bright colors of the Doodlebug Papers and the many varied colors of the Mosaic Moments Paper Tiles really made my day! I do love color. I would be happy with a complete set of paint chips…but I found a Pantone baby board book that I'm buying myself under the guise of being for Isabella's Christmas! I took her to look at fabric yesterday. I found a cute fabric, put it before her, ooo-ed and aaahhh-ed and slid my hand over the bolt slowly. ( really over dramatized it!) Then I placed her hand on it and smoothed it along the fabric. Then she did it on her own…the same slow way I had…but the look was one of "Granny's lost it" rather than sheer joy… but we can work on that!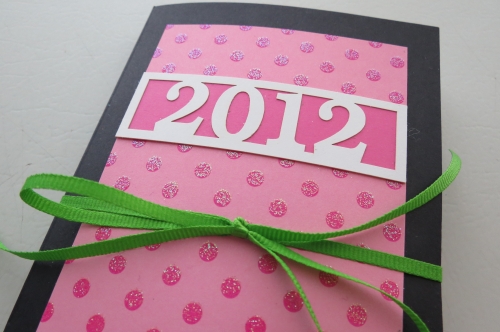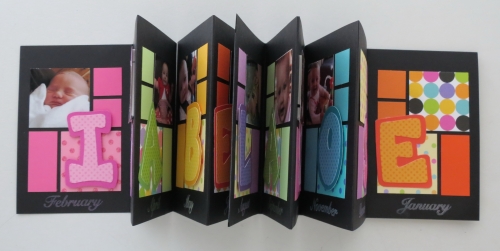 Anyway, I digress…back to the Challenge! I've chosen to do the mini-book, and added a ribbon closure to hold it together. I made an outside cover, 6" x 8.5" in black and then scored the page from each edge at 4-1/16" so that there is a "spine" section to accommodate the bulk of the book. The inside is only secured on the back panel, this allows the accordion folded "book" to open out to a display piece. I have a couple of slits to thread the ribbon through, when the book is open and displayed the ribbon can be neatly tied in a bow on the backside. The cover is finished with a sparkly section of pink glitter Doodlebug paper and using a 2012 striplet tile backed with Watermelon Sensation Paper Tile. Isabella's First Year is written in Sharpie's Copper Rose Metallic Pink Ink.
I used two sheets of the RTC 4x6 Grid Paper in black. They are cut in half, scored and folded at 4" intervals, then attached with tape on the backside to have a continuous string of 12 panels. Her name, ISABELLA ROSE, is used with one letter for each panel. I wanted to display a photo taken of her from each of month, beginning with her birth in February. I have two panels with no photo yet…a square of paper acts as a temporary place holder until they've been taken. I cut each letter out of a Doodlebug dot paper, ran it through the Xyron and used various cardstocks to shadow each letter. At the bottom of each panel I stamped in matching colors the month that the photo was taken, one for each month milestone she's reached.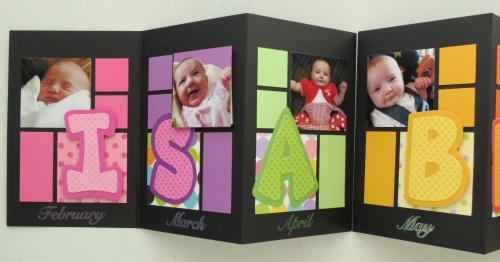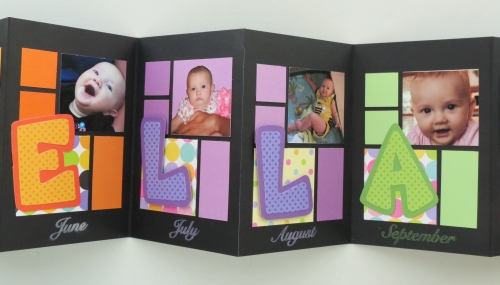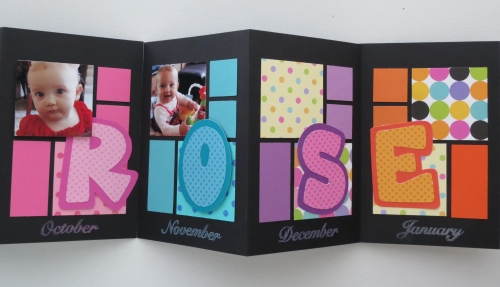 The design is simple, kind of a Mondrian feel to it.
The two things to be included in this challenge were to use pop dots to raise areas on the pages and "silhouette" cut photos on top of mosaic cut images. I have used foam mounting tape to raise some letters, a few of the photos and have silhouetted a couple of photos and mounted on top of paper tile 2x2 block squares. I tried to keep a balance to avoid a book that is too bulky.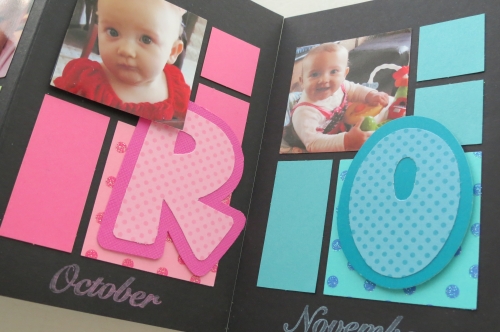 photo on left is "popped" and the "O" is also "popped"
It's amazing to see how much she has grown…what a year this has been! What a personality is emerging!
I don't know about you, but I think I'm going to have to explore using the Ready To Cut papers more in the future…it seems that the possibilities are endless!
MM November Challenge #2 supply list
Impression Obsession HS204 Circle Calendar rubber stamps by Tami Potter

Color Box mini's in these colors: Thistle, Robin's Egg, Pink, Papaya Cream, Lime and Daffodil.

Mosaic Moments Paper Tiles in these colors: Watermelon Sensation, Orange, Deep Peaches & Cream, Tangelo Blast, Pineapple Bliss, Medium Aqua, Grape Delight, Plum Delight, Medium Lime/Apple Crush.

Doodlebug Design patterned papers: Petite Prints in these colors: Swimming Pool dot/grid, Bubblegum dot/grid, Cupcake dot/grid, Lilac dot/grid, Tangerine dot/grid, Bumblebee dot/grid, Limeade dot/grid. Glitter cardstock in Cupcake dot and Aquadot. From Hello Spring: glitter Color dots and Happy Valley. From Colorwheel: Connect the Dots.

Cardstocks from Bazzill, American Crafts, and Wal-Mart's Best Occasion brand of brights.

Ribbon: Lime Green Offray

Mosaic Moments "2012" striplet tile.

Mosaic Moments RTC Grid Paper 4x6 Black two sheets

Sharpie Metallic Paint Pen: Copper Rose

Coluzzel Letter templates
A Quick Tip: As my collection of Paper Tiles increases I have searched for various storage solutions. At the present I am using an office box 8.75" x 11.25" x 5.5" . I made myself files, labeled them and have used sandwich bags to store all the pieces, also used the bag they came in and folded it over. This way I can see the color for reference and the color to plan with. I may keep looking for a perfect solution, but for now this works well.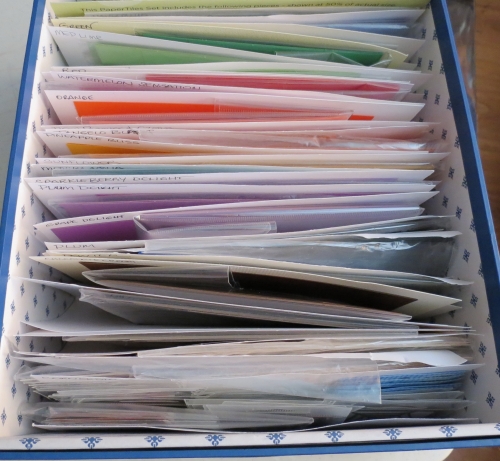 Hope you all have a wonderful Thanksgiving…don't forget to take pictures...and include the food! Thanks so much for stopping by,
andrea
Shared by Andrea Fisher on November 18, 2012 | Memory Date: November 18, 2012