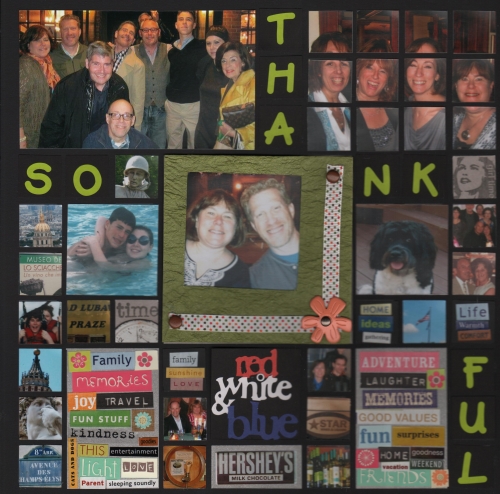 What are we thankful for? Our first challenge for November was to create a page of what we are thankful for.. Like everyone else, I am thankful for so many things.
I had a completely different idea for the look of this page. I was going to use my stash of clear acrylic stamps, many of which were ideal for this page. Unfortunately I am not a very skilled stamper and the first efforts of this page showed that. On to plan B. I recently purchased the Sew Easy tool. How misleading since it is not so easy to use. Plan C into action.
I knew I wanted to incorporate a picture of my family and friends since I am most thankful for having them in my life. Other things I am thankful for are my dog, our business, our ability to travel, time, chocolate, wine and most of all, freedom.
Once these things came to mind, the page started taking shape. I had sheets of stickers with a lot of different words in various sizes and colors and thought they'd make an interesting collage instead of journaling. I have many unused photos from our travels and every day life and chose the ones that could be cut into 1" squares to fill in the spaces around the larger photos and journaling squares.
At one point there were too many small photos, so I switched them out for 1" letters spelling out SO THANKFUL.
I know this page is a little busy but in the end it captured things I am most thankful for.
Shared by Beth Glass on November 8, 2012 | Memory Date: November 7, 2012