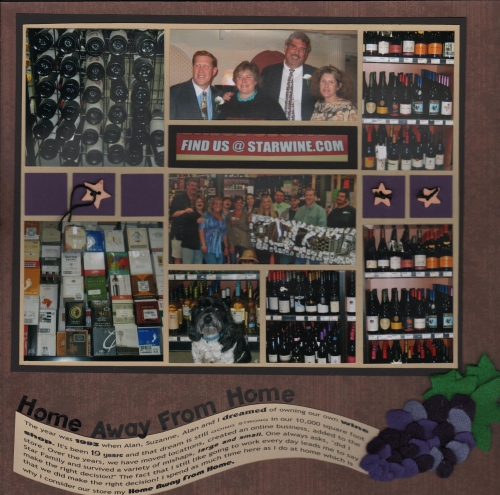 Our 2nd challenge for October was to design an 8.5 x 11 mosaic page and mount it on a 12 x 12 page. The elements we could choose to add were felt and/or twine.
This layout started on black paper but since the photos have a lot of black in them, I switched it to a lighter beige and then mounted it on black. I chose a textured brown for the 12 x 12 because it almost looks like it is mounted on a piece of stained wood.
I chose to make a cluster of grapes out of felt, then use the purple again in the 1 x 1 squares to tie it all in. While looking for twine, I found these small star buttons I completely forgot I had! Since our store is called STAR WINES & LIQUORS, I placed them on the purple squares and secured them with twine. I thought leaving the knot and some extra twine in front added another dimension instead of leaving the knot on the back side of the page.
In case it is hard to read the the banner on the bottom, I truly feel like our store is my home away from home. I spend many hours each week doing a variety of things from helping customers, marketing, increasing our presence on social media sites, ordering and merchandising a whimsical and practical accessories and just about anything else that needs to be done (except ordering the wine & liquor). The center photo shows most of our current Star Family which includes my husband and our business partner's wife who has been my friend since 4th grade. Of course, my dog Murphy is also pictured since he is lucky enough to come to work with me almost every day.
The top photo shows us at a proud moment in time as we received the Orange County Chamber of Commerce Small Business Success Award. We are pleased to be recognized and visible in the community, not only for our business success, but for all our volunteer service to our community.
If you have any questions about wine, you know who to ask!

Shared by Beth Glass on October 21, 2012 | Memory Date: October 21, 2012